In adestination favoured by professional cyclists, the week-long training camp allows for athletes to train at more than 2000 metres above sea level even in winter.
Contenido
Tenerife, Team Jumbo-Visma base
When Team Jumbo-Visma has to prepare for a major event on the international cycling calendar, it chooses Tenerife as its base. The Dutch team knows that the island's geography and climate is great for top-level cycling, especially during those times of the year when the colder conditions in other parts of the world can make training difficult.
Leading Team Jumbo-Visma cyclists Primoz Roglic and Wout Van Aert achieved successes in 2021 after reaching high levels of performance by training regularly on Tenerife's roads.
Contenido
The best place to prepare for altitude
For some years now, Tenerife has been a highly prized training destination for professional cyclists thanks to its diversity of terrain, orography, and altitude which is essential for driving athletic performance to the highest level.
Team Jumbo-Visma is one of a number of high level teams which chooses Tenerife each year for weeks-long elite competition preparation. In fact, in 2020 Team Jumbo-Visma came to Tenerife on three occasions for training camps. According to Jon Iriberri, head of biomechanics at the Dutch team, "there is no better place in the world to prepare for altitude".
Contenido
In Tenerife cyclists can travel from an altitude of 2,000 metres in the Teide National Park to sea level in a very short space of time which is ideal for improving resistance capacity and performance.
"Mountains with the characteristics of Teide are normally covered in snow or have very high temperatures at the peaks," says Iriberri.
If you're a cycling enthusiast, there is no better place to improve your performance than a destination such as Tenerife which is chosen by one of the best teams on the planet.
Are you thinking of Tenerife for your next training camp? What follows is a plan of six training routes which have been used by some of the world's best athletes.
Imagen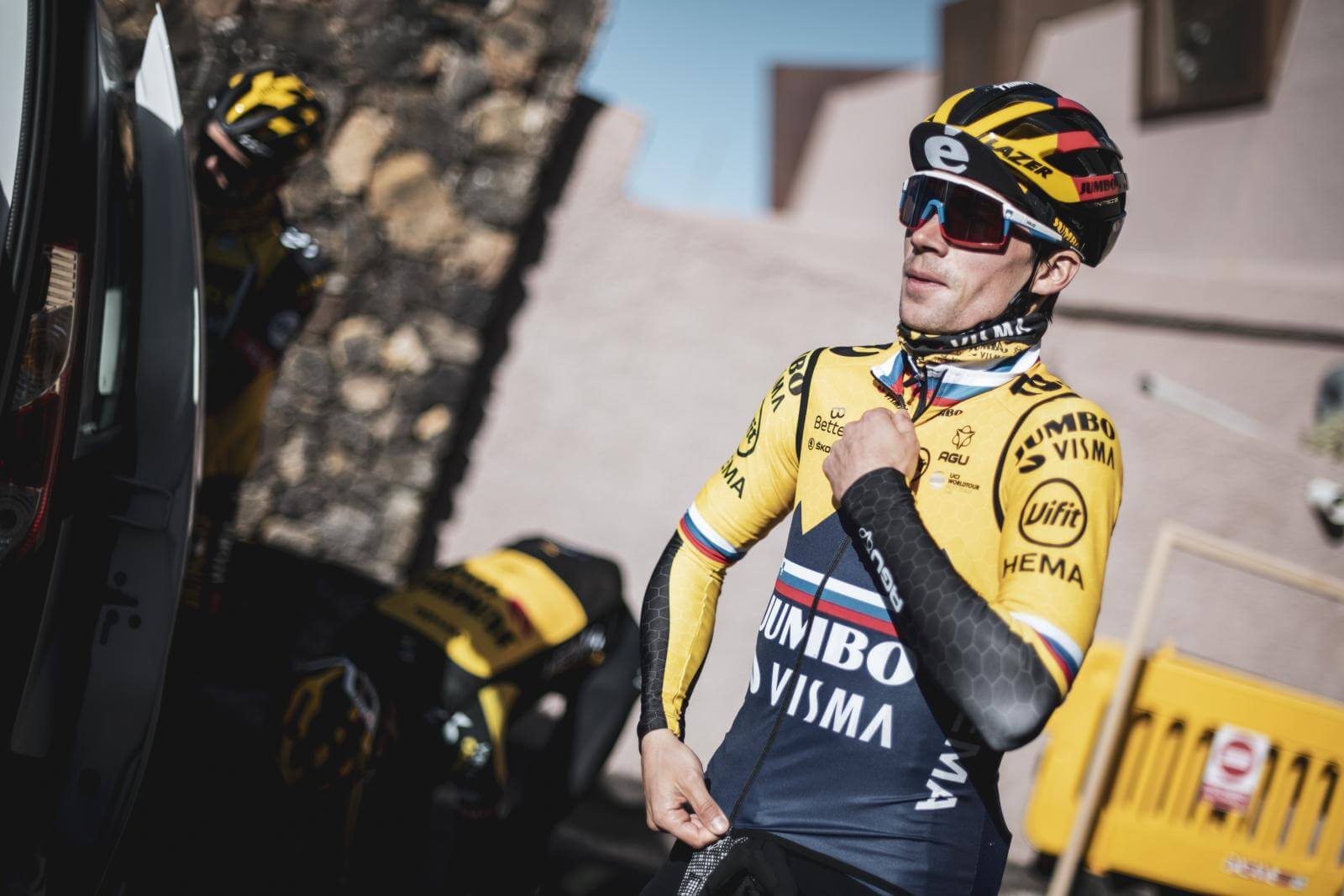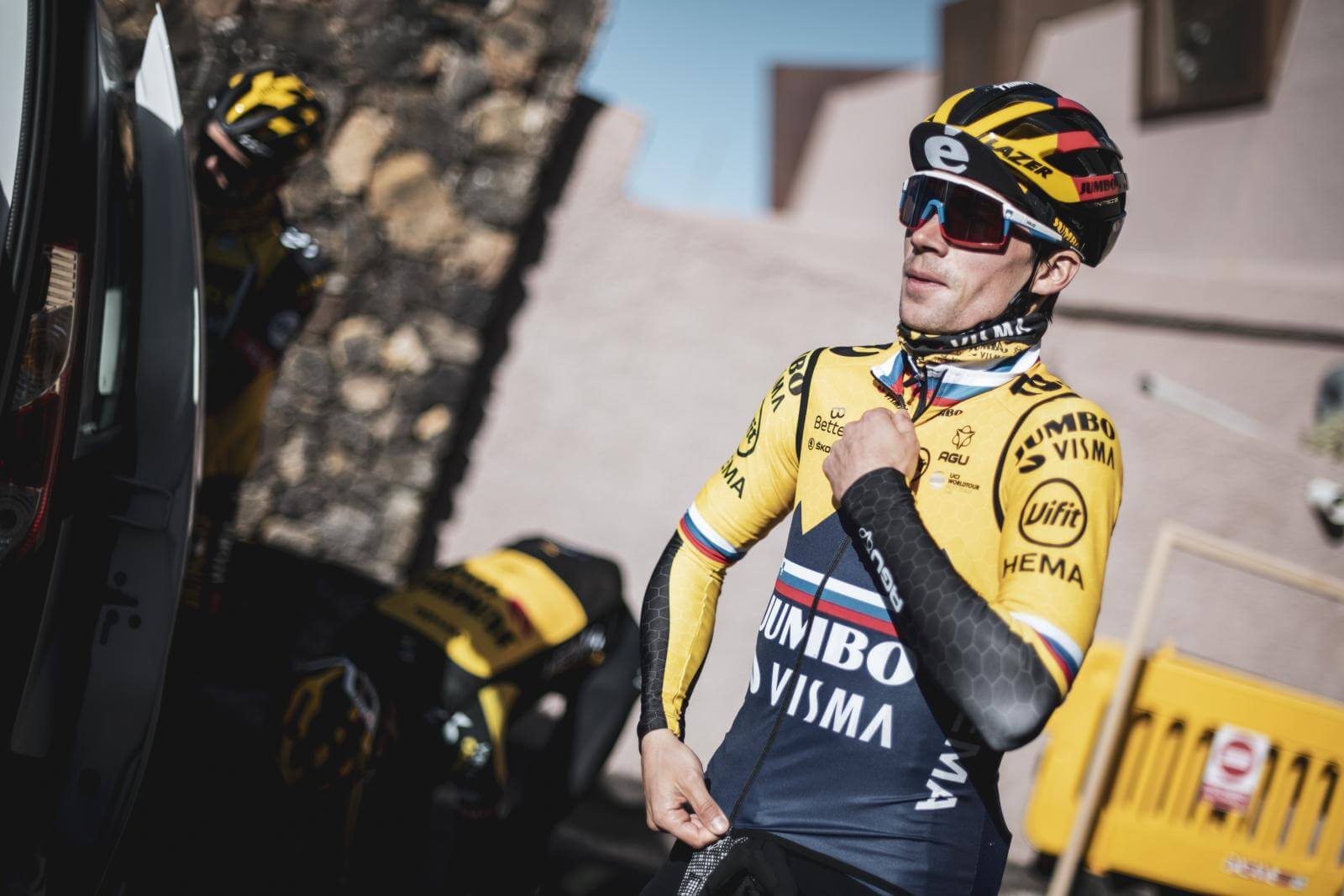 Contenido
El  Médano-Chimiche-Granadilla-Playa de Las Américas.
Objective: adaptation and acclimatisation
Average gradient: 2%
Distance: 50 kilometres
Ascent: 780 metres
Descent: 915 metres
Light aerobic ride: 50-75%
One of the most popular routes for professional cyclists who train in Tenerife is the circuit that sits between the southern town of El Médano and Granadilla. Due to the course's moderate elevation (the route rises at its highest point to 640 metres above sea level in Granadilla), it is ideal for island adaptation and gradual acclimatisation.
From a starting point in El Médano the route ascends 4.7 kilometres to San Isidro which lies at 211 metres above sea level. The stretch of terrain which sits between the towns of Chimiche and Granadilla contains the most severe gradient with a 4% slope.
For the final section, cyclists can either return to the tourist centre of El Médano, about 11 kilometres away, or, for improved island acclimatisation, descend to Playa de Las Américas along a 20-kilometre-long route segment from Granadilla.
Imagen
Contenido
La Camella-Valle San Lorenzo-San Miguel-Granadilla-Playa de Las Américas.
Objective: series training
Average gradient: 4%
Distance: 60 kilometres
Ascent: 1,415 metres
Descent: 1,547 metres
VO2 development: max
Hit: 2x2x3 / ascents
The second route is a series training circuit which aids performance improvement through combining sections of high and moderate intensity. The course starts with a transfer to the town of La Camella, in the southern municipality of Arona, 320 metres above sea level.
First there is a flat warm-up segment of 2.9 kilometres which reaches the town of Valle San Lorenzo. Next the course ascends along well-maintained secondary roads to San Miguel, 5.2 kilometres away. At the Mirador de La Centinela, cyclists can stop to refuel if necessary.
Leaving San Miguel, the route continues to Granadilla where a tough section takes riders to Vilaflor, the town with the highest altitude in Tenerife. To reach an altitude of 1,375 metres above sea level, this part of the course – which puts any cyclist to the test – involves a continuous ascent of 15 kilometres at an average gradient of 6%. The effort is worth it. Cyclists can enjoy not only superb training but also offers fabulous views of a unique landscape with Vilaflor surrounded by a large pine forest.
The final section involves a downhill stretch of 30 kilometres to the beach of Playa de Las Américas.
Imagen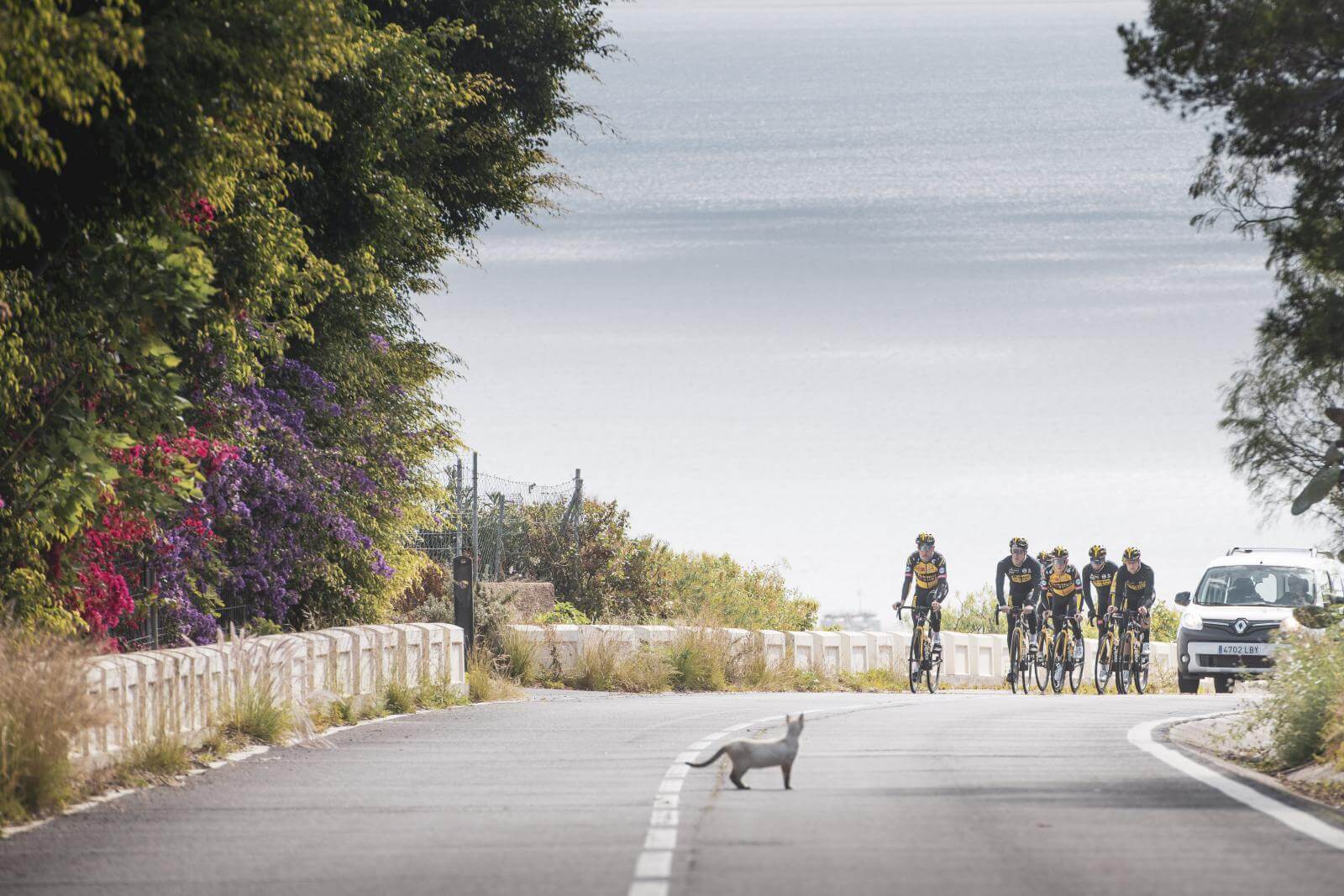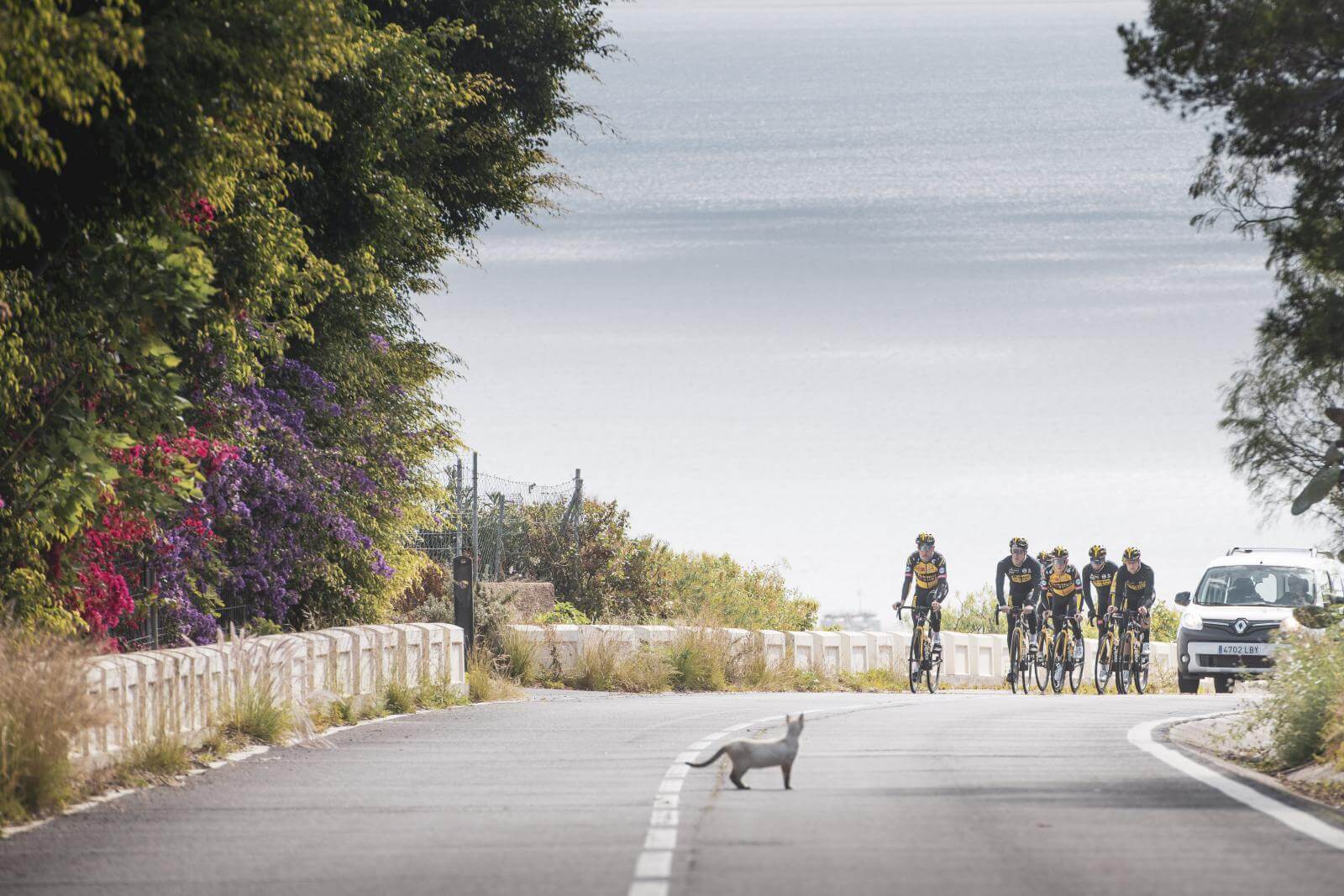 Contenido
Guía de Isora-Santiago del Teide-Buenavista del norte-Masca.
Objective: resistance
Average gradient: 3%
Distance: 65 kilometres
Ascent: 2,100 metres
Descent: 1,575 metres
Cadence stimuli: 5x1minute
This is the not only one of the most demanding circuits on the island it is also one of the most attractive with impressive vertical walls and sharp curves which pass through some of the most picturesque and original locations in Tenerife.
The course begins in the municipality of Guía de Isora, in the south of Tenerife, and takes riders to the village of Chío, 5.3 kilometres away. In this segment there is the option of increasedtoughness by making a detour to the neighbouring hamlet of Chirche, 7 kilometres away. This route-segment is a popular destination for professional cyclists in need of measuring their fitness. The ascent of 2.9 kilometres to the viewpoint has a gradient of 12% and has seduced professionals of the stature of Alberto Contador who has completed the section on several occasions.
Once Chío is defeated, the route continues for 8 kilometres to Santiago del Teide. Next up, at an altitude of 1092 metres above sea level, there is a 22.8-kilometre descent along a section of well-maintained roads that cross the north face of the island to arrive to Buenavista del Norte. After passing through this town there is a flat segment of 10 kilometres which goes through a series of iconic banana plantations. At this point, cyclists will have faced a total of 2,955 metres of downhill riding.
Next comes the real challenge of the day: the ascent to Masca. Though only four kilometres long this is one of the most demanding pieces of course on the island with gradients of 19 and 20% and an average slope of 11.1%. The road is well-kept, and there are several horseshoe curves. Riders should bear in mind that there are no downward sections or shaded spots for respite, so to complete the test cyclists will need to be in good physical condition.
Imagen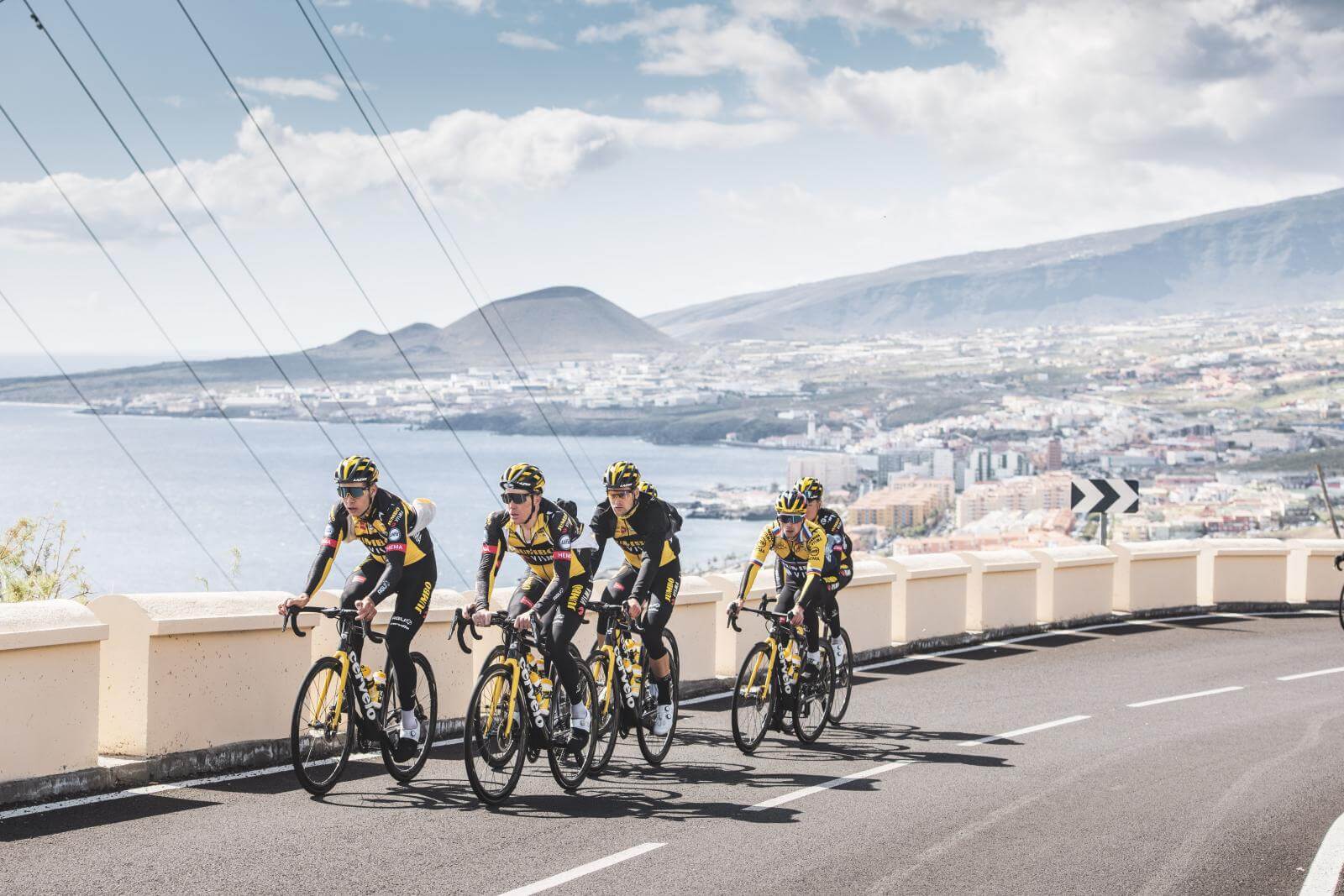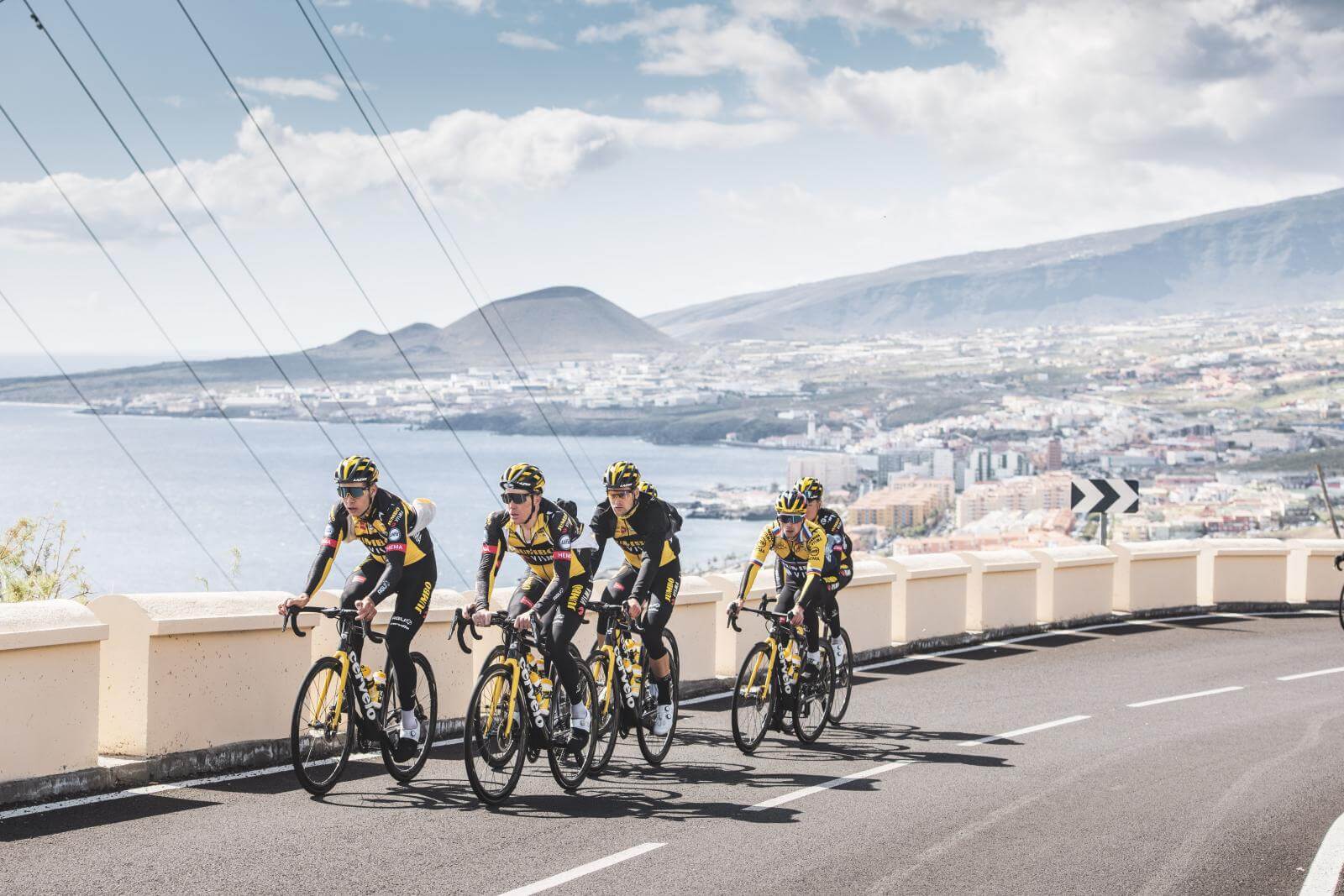 Contenido
Güímar-Playa de Las Américas.
Objective: improve aerobic capacity
Average gradient: 4%
Distance: 75 kilometres
Ascent: 1,121 metres
Descent: 1,239 metres
Hit: 5x3minutes
One of the most popular roads for cyclists in Tenerife is the TF-28 which links the island capital of Santa Cruz de Tenerife with the southern municipalities. The roadway contains numerous stretches of ascent and descent and more than a thousand curves over a distance of 100 kilometres. The course's mixture of rising and falling segments is perfect for aerobic capacity improvement, and this is why top-level cyclists recommend this section to assess fitness levels.
The route beings in the municipality of Güímar where a slight ascent takes riders to the Don Martín viewpoint where a pitstop can be made to regain strength. Next there is a stretch with gorgeous panoramic views as the course passes through a number of towns with altitudes of between 400 and 700 metres. The variation of rising and falling terrain allows the route to test both resistance and performance. Once Granadilla is reached, cyclists are recommended to finish the route in the beach of Playa de Las Américas, which involves a 20-kilometre descent.
Imagen
Contenido
La Camella-Granadilla-Vilaflor-Parque Nacional del Teide-Playa de Las Américas.
Objective: altitude training
Average gradient: 5%
Distance: 105 kilometres
Ascent: 2,550 metres
Descent: 2,665 metres
Oxidation: 60/75%
Amongst cyclists that visit Tenerife, this is undoubtedly one of the most frequented stages. The course culminates in the Teide National Park which is a popular training destination for teams such as Jumbo-Visma, Bahrain McLaren, Astana Pro Team, and INEOS Grenadiers. Cyclists including Chris Froome and Tadej Pogacar have been known to undertake race preparation in the area.
The route is very demanding, and its altitude, which allows cyclists to ride at more than 2,000 metres above sea level with average gradients of 4.5 to 5.5%, is great race preparation. 
To get to the National Park, which contains the highest peak in the whole of Spain, the best route runs from the southern municipality of La Camella to Granadilla. This warm-up section travels along a 16-kilometres road with an average gradient of between 5 and 6%. Next there is a 14-kilometres ascent with a gradient of 6% to Vilaflor. The section tests cyclists' endurance capacity as the increase in altitude causes a reduction in oxygen pressure.
From Vilaflor the Teide National Park is 14 kilometres away. This part of the circuit allows cyclists to test themselves at altitude whilst enjoying unique views of a timeless landscape. The final challenge for cyclists is the descent which arrives to the beach, Playa de Las Américas, about 45 kilometres away.
Imagen
Contenido
Playas de Las Américas-Los Gigantes-Guía de Isora.
Objective: Pedalling cadence improvement
Average gradient: 3%
Distance: 57 kilometres
Ascent: 950 metres
Descent: 1,175 metres
Aerobic ride: 50/65%
This route, designed to improve pedalling cadence, runs through the Acantilados deLos Gigantes which is one of the most emblematic spots in Tenerife.
The final circuit in this cycling plan starts from the beach of Playa de Las Américas and covers 34 kilometres as it passes through the coastal towns of Playa San Juan, Fonsalía, Alcalá,and El Varadero. This course offers an unforgettable journey along the southwest coast of Tenerife. The route can be enjoyed with variable ascents and descents that allow cyclists to train their pedalling cadence, aerobic capacity, and endurance.
At Los Gigantes cyclists faces the most demanding point of the route: The Tamaimo climb is 10 kilometres long with a 7% gradient at an altitude of 609 metres. Once this section is complete, there is a descent through the hamlet of Chío (which is about 6 kilometres from Tamaimo). The circuit finishes in Guía de Isora.
Contenido
Services
Specialised cycling equipment rental company:
Specialised travel agencies: 
Transfer services:
Contenido
Specialised training centers:
Physiotherapy:
Nutrition:
Recovery:
Specialised media agency: