Small, quiet, with no paved roads or pollution, virgin nature, paradisiacal beaches with turquoise waters and white sands, sparse landscapes, barely inhabited… That's right, although it may be hard to believe, a place like that exists only a few hours away from any European city.
Contenido
Just a half an hour from Lanzarote, connected via modern boats that make several daily trips to and from the island, this little treasure of the Canary Islands is a dream come true for travellers seeking solitude, relaxation and to connect with the natural environment.
Like the rest of the Canary Islands Archipelago, La Graciosa is also blessed with a fantastic climate all year round, meaning that any time of year is a good time to enjoy this paradise that is part of the Chinijo Archipelago Natural Park and one of three marine reserves that exist in the Canary Islands, as well as being a refuge for many marine birds.
A protected island that invites you to relax, sunbathe and take revitalising swims, discover it by bike or on foot, enjoy its gastronomy next to the sea… Much more than treasure!
Contenido
Unspoilt beaches with turquoise waters
Solitary, virgin beaches with white sands and turquoise waters are La Graciosa's main attraction. Being such a small island, it's surprising that it's possible to enjoy a different beach each day of our stay.
We can choose between those that are a bit busier, depending on the time of year, and others where we'll find absolute solitude. There are also some with calm water, ideal for snorkelling, or with lots of waves and currents where we will have to be more careful. There are beaches with white sand, golden sand, and volcanic rock, creating surreal contrasts of shades where they combine.
Imágenes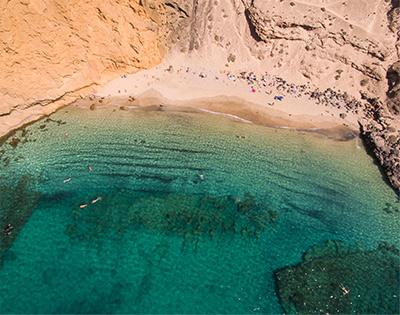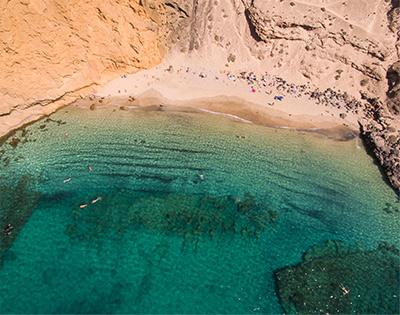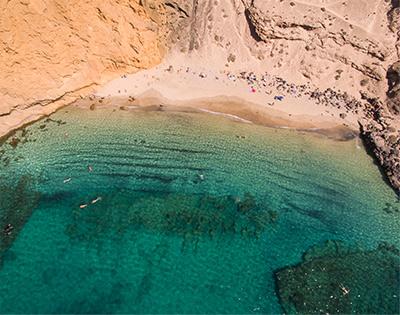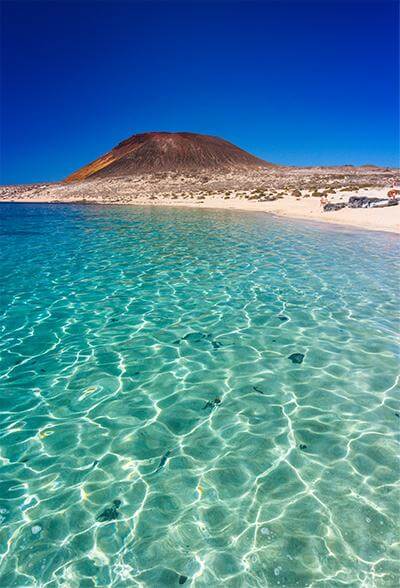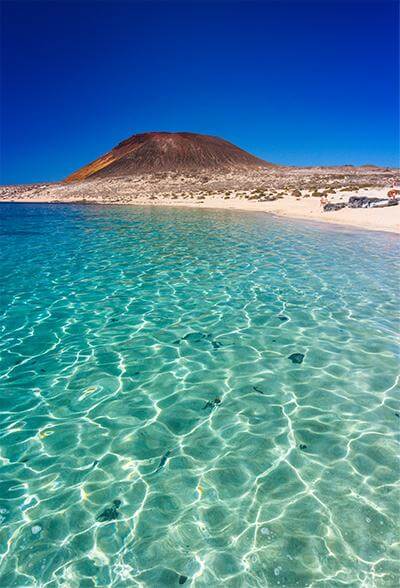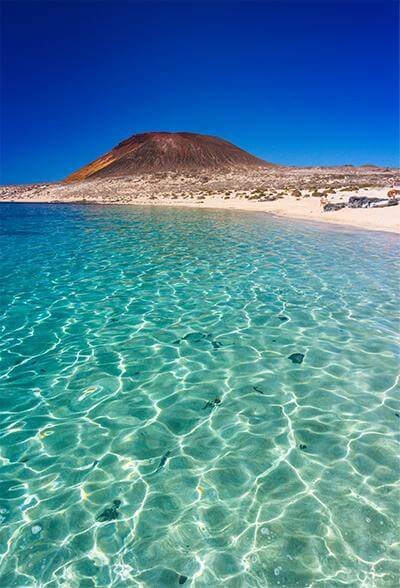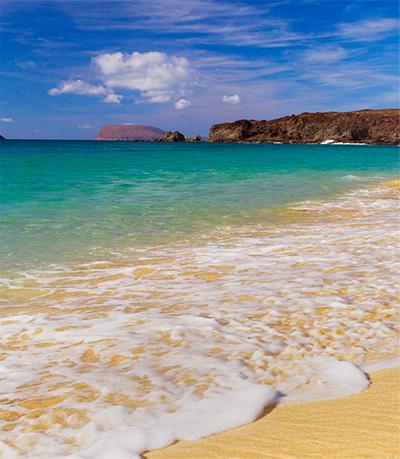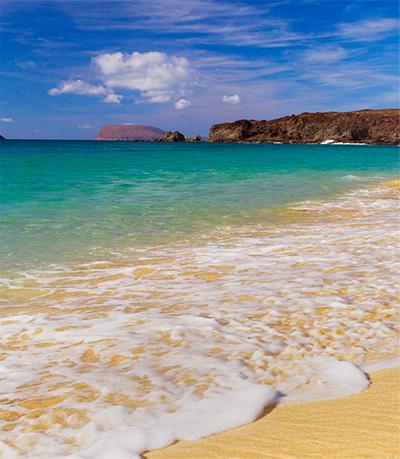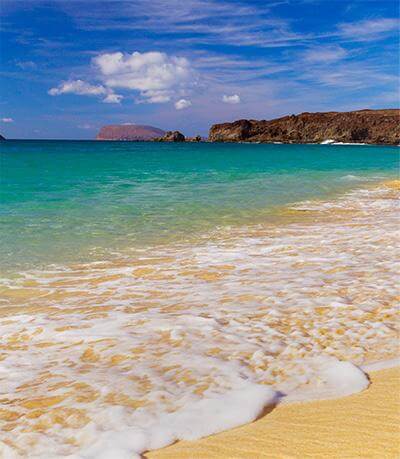 Imagen


Contenido
La Graciosa by bike
One of the best ways to get around La Graciosa is by bike. As well as being environmentally friendly—we mustn't forget that this territory is protected in its entirety—the island's orography allows us to discover all the beauty it has to offer with little to no difficulty. The trails are well signposted and we have to stay on the track in order to avoid damaging the natural environment. We won't have to worry about the bike part either, as we can rent them on the island for as long as we want for a delightful experience. Let's get pedalling!
Contenido
Trails on foot
There are several trails that explore a large part of the island, dominated by austere volcanic landscapes in which we won't find trees or shade for sheltering from the sun. As with cyclists, hikers should also stay on the paths so as not to damage this fragile ecosystem, which is home to endemic species that cannot be found anywhere else on the planet.
The four main hiking trails take us to paradisiacal beaches and other interesting places on the island that will no doubt make an impact on everyone who sees them. Strolling calmly along these routes while enjoying a beautiful sunset is an unforgettable experience.
Dominated by austere volcanic landscapes in which we won't find trees or shade for sheltering from the sun.
Contenido
The richness of the seabed
La Graciosa and its surroundings, together with the islets to the north of Lanzarote, make up one of the three marine reserves in the Canary Islands, with this protection being established to preserve the seabed in this area of the archipelago. It can be easily guessed that the island is perfect for diving enthusiasts, who will find an enormous range of flora and fauna here, as well as abrupt underwater volcanic landscapes with lots of caves and tunnels.
But if diving in the sea is a little beyond our aspirations, that's no problem. La Graciosa offers an alternative, so we don't have to miss out on these marvels. Some of the island's beaches, the ones with calm sea, are perfect for grabbing a snorkel and some goggles and enjoying this natural aquarium that way. In fact, it's not unusual to see small boats, usually sailing boats, moored near the coast with the occupants sunbathing on deck or diving into the transparent waters in search of the perfect photo. Don't forget to show it off on Instagram!
Contenido
View La Graciosa from the sea
Are we happy to just discover this island's beauty on a bike or walking along one of its trails? Of course not. From the neighbouring island of Lanzarote or from Caleta de Sebo, we can arrange a boat excursion that will let us enjoy La Graciosa from a different angle, sailing along the coast on calm water.
Imagine a leisurely trip on a modern catamaran, lunch included, feeling the warmth of the sun on your skin and the refreshing sea breeze as you see the uninhabited islands of the Chinijo Archipelago up close, as well as Montaña Amarilla (the yellow mountain) and La Cocina Beach. We know, we know: you've got to see it for yourself.
Imagen


Contenido
Don't leave without trying…
Fresh fish is the speciality on this small Atlantic island, accompanied by other products from Canary Islands cuisine, such as wrinkly potatoes and 'mojo', a slightly spicy sauce that is traditional in the Canary Islands.