Years ago, if anyone had said that one day Björn Koreman would become a professional athlete running with the greats like Eliud Kipchohe, Joshua Cheptegei and Kenenisa Bekele, nobody would have believed it. Koreman caught the athletics bug when he was 21 years old, back when he still had a twenty-a-day habit and collected autographs from the runners who would one day be his teammates. Koreman, who was the fourth Dutchman to classify to represent his country at the Tokyo Olympics, says Tenerife is one of his favourite spots for competing because "it is a paradise for training".
Contenido
You started running when youwere 21 and still smoking a pack a day, thenachieved times that classified you to compete in the Olympics and compete alongside elite triathletes like Eliud Kipchoge, Joshua Cheptegei and Kenenisa Bekele in the NN Running Team. What's it like running with them and why is this sport more addictive than smoking?
Running keeps me fit and brings out the best in me. Before I started, I wasdrinking and smoking and had no major life goals. After my first race, I decided to go for it. What's more, it gives me a lot of freedom and pushes me to get the best from myself.
You did your first 5K in 20 minutes and were the fourth Dutch athlete to qualify for the Tokyo Olympics, but in the end, you couldn't represent your country at the games. This was after the injury you sustained trying to stop a burglar, how did you handle it?
It's a shame I didn't get to go, but I enjoyed Abdi Nageeye's silver medal afterEliud Kipchoge, so I am extremely proud of my teammates. I am looking ahead to the Paris Olympics in 2024!
ID
me-quote-a9b2a70a-0ed0-4920-b847-e7503aaed0d2
Cita
Running keeps me fit and brings out the best in me.
Imagen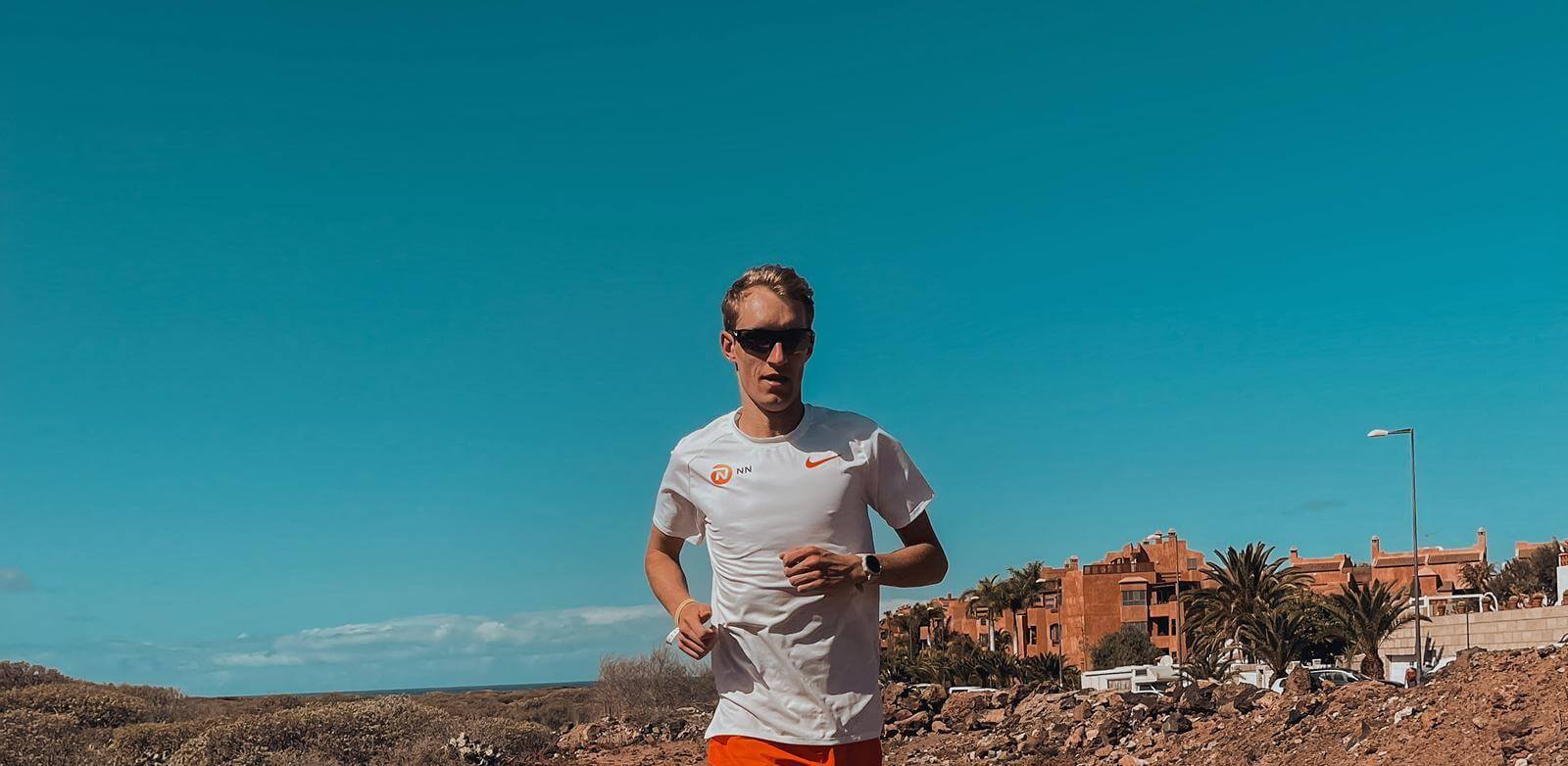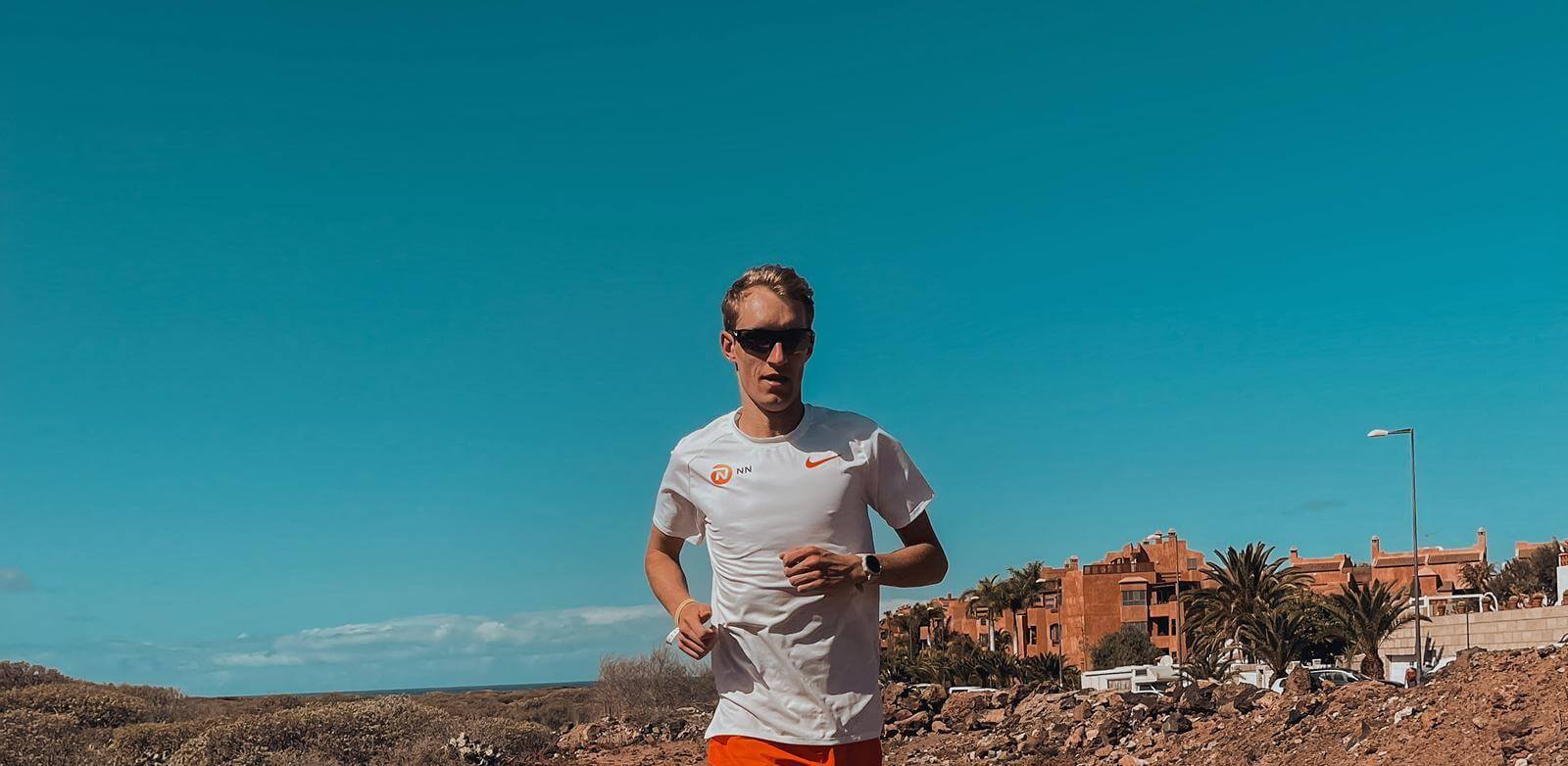 Contenido
You ran the 5,000 metres in 14.07 and the 10,000 in 29.22, as a result of your determination and training routine, and you have included Tenerife among your training destinations. What made you choose the Canary Islands? How did you find training on the Island?
It was a real surprise! I had never visited the island before, and everything was brilliant: the climate, the paths for running, the track... It was all incredible. My manager told me that Sifan Hassan was training there, so we didn't think twice. Both Luuk Maas and I were looking for somewhere with a good climate, so we decided to go and we'll certainly be back!
You have travelled the world in search of the best training spots. How would you describe Tenerife? What makes this island different from other training locations?
The climate is perfect for a training camp and the island ticks a lot of boxes for training. There is a huge variety of altitudes. You can train at sea level or on the Teide. There are so many different paths and terrains to choose from. It is a paradise for training. 
Contenido
Which would you say is your favourite spot in Tenerife?
The Teide.
And your top three training locations on the island?
The Teide, the Olympic stadium in Arona, and the dirt paths on the island.
What would you say is unmissable in the Canary Islands?
On days off in the Canaries or after a hard session, I recommend you spend some time in the mountains or on the beach. It's the best way to relax and recover.
ID
me-quote-5e2abf75-0e64-4e6c-8388-9968a4b50160
Cita
The Canaries are perfect islands for rest and recovery.