Imagen Listado
Imagen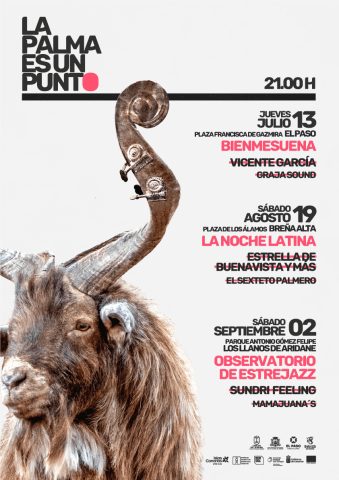 Past event
Descripción del evento
"The La Palma es un Punto Festival began its journey in 2006, more than a decade ago, with the aim of diversifying the island's cultural offer, specifically music, and bringing it to La Palma society with an outdoors concert format for all audiences, thus being popular among tourists. The last 14 editions have taken place thanks to the invaluable support of the Canary Islands Regional Government, La Palma Island Council and the Town Halls that host the performances, whom we hope will support this new edition.
The Festival concerts take place in different towns on the island, including El Paso on 13 July, Breña Ala on 19 August and Los Llanos de Aridane on 2 September, in the summer season. In this edition proposes a deluxe programme with three internationals entirely. Using a format of proven success.
In this new edition of La Palma es un Punto, the aim is to "infect" the joy and culture that floods this event to everyone who passes through it. We want every person who can see the poster to attend one of the three concerts.
This Festival provides an extraordinary cultural offer in which three components are a cultural attraction: a varied musical offer in genres, renowned local and international artists and highly attractive locations.
The artists
Each concert is unique and unrepeatable, loaded with the charisma of the performance and at the same time making a connection with the audience. The three singers are renowned for giving a great show and connecting with the soul of the attendees, whatever their language.
Estrellas de Buena Vista y Más® is the new musical project that Efecto Sound (Canarias Concerts & Events) brings to the stage after twenty-five years of Buena Vista's hits. The show has 11 musicians on stage and a repertoire that is reminiscent of the 1940's and 1950's, the golden age of Cuban music. The artists include the original members of Buena Vista: vocalist Carlos Calunga, percussionist Ángel Terry, saxophonist Javier Zalba and bass guitarist Pedro Pablo Gutiérrez Valdés. Under the musical direction of the best 'tres' artist (a three-course chordophone of Cuban origin) in the world, Pancho Amat.
Secondly, we will enjoy the performance of singer/songwriter Vicente García, characterised by his musical variety including Bachata, World Music, Caribbean Music, Merengue, Alternative Music and Reggae; all influenced by his Dominican heritage. Born in 1983 in Santo Domingo, Dominican Republic, at the age of 12 he "stole" his aunt's classical guitar and began to play and compose his first songs. He formed his first band in 2002, Calor Urbano, together with Carlos Chapuseauz, Joel Berrido and Adolfo Guerrero. It wasn't until 2011 that he began his career as a soloist. He was awarded three Latin American Awards in 2017 and one Sovereign Award in 2018.
And thirdly, singer Sundri Feeling, who was born in Reunion Island, France, joins the family from the four corners of the globe. Thanks to Creole singer Jun Fortuné, she made her way as a showgirl and dancer in 2002 thanks to Creole singer Jun Fortuné. In 2014, she released her first album "Acords", which was nominated for the International Acoustic Music Awards and Voices of the Indian Ocean, touring Asia in 2017. She has collaborated with Sylvin Marc, Chris Rea, Mishko M'Ba and Ray Charles, among others. It is the spirit of jazz floating over beautiful songs from around the world in French, English, Creole and Spanish, as well as the generosity of the singer and musicians. This quartet is surprising because the set it offers is unique and original. It emerges as an organic journey, a fusion of different sounds, rhythms and dances.

Fourthly: Graja Sound, a musical collective of DJs who love vinyl as well as alternative music and rhythms. Influenced by the scene of the 1960s, 70s and 80s, these DJs have formed their own unique and authentic style. Between tradition and modernity, their main ambition is to delight the audience and get people to dance. The originality of their assignments and their presence on stage have guaranteed their success on the island.
Fifth, El Septeto Palmero arises once again years after this explosion of bands, with the aim of interpreting a little from each of them, mixing different trends and styles into one of their own. Its members are young and therefore the interpretation of this music is fresher and more danceable. Formed as a sextet, tres and violin are accompanied by the rhythms of bass and percussion, although this doesn't mean that they won't add more musicians to the equation. But don't be surprised if you see a "sextet" of six, seven or eight musicians, since they welcome with open arms musicians or friends who have something to contribute to this project.
Sixth: Mamajuana's. Its repertoire consists of varied and well-known songs that simultaneously connect with the hearts of several generations, also with a personal acoustic touch through different vocals in harmony. A group from here, the island of La Palma, formed by three women: Yaiza Pérez, Flavia Cruz and Mariló Fernández. After a period of forced break, they return to their music with more enthusiasm and totally renewed. They all combine their passion for music with the experience of being working mothers. Their musical purpose is simple, they simply want the audience to feel the music beyond their ears. That feeling of closing your eyes and connecting with the emotion.
"
Category
Categoría del evento
Music
Age
Edad Recomendada
All audiences
Price
Please, check the event/tickets web