Imagen Listado
Imagen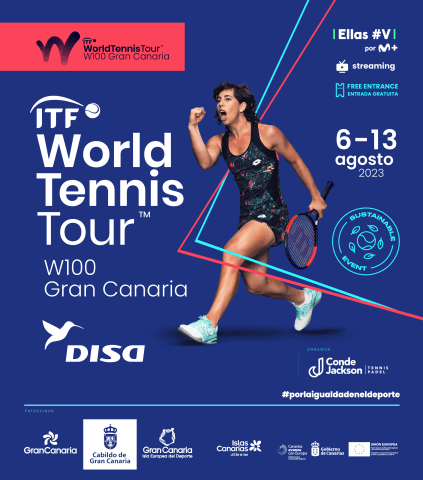 Past event
Descripción del evento
After 9 editions holding 2 consecutive Women's ITF tournaments every year in the island of Gran Canaria in lower categories, in the 2023 edition we will make a great qualitative jump with the celebration of a tournament of the highest category of those belonging to the International Tennis Federation, a Women's ITF WTT 100.000$ H+, which will take place from the 6th to the 13th of August 2023.

The ITF W100 Disa Gran Canaria, will have the presence of great female professional tennis players who will come to our beautiful island to compete for the title. The player who has been representing our tournaments for the last three editions, and who has kindly lent us her image, is the tennis player Carla Suárez, an acclaimed player at the highest level of international tennis and a native of Gran Canaria. In previous editions important names have competed in our tournaments, among them the Spanish Paula Badosa or Nuria Parrizas, or foreigners like Kaia Kanepi, Arantxa Rus, Maiar Sherif or Nadia Podoroska.

The tournament will take place at the modern and elegant Conde Jackson Maspalomas Tennis Club, which has 7 high quality clay courts and two hard courts. Tennis fans will have the opportunity to watch some of the most exciting matches of the year, while enjoying the pleasant tropical atmosphere and stunning scenery that only Gran Canaria can offer.

The qualifying round of the tournament will take place on the 6th and 7th of August with 32 players taking part. The main draw will start on Tuesday 8th August and finish on Sunday 13th August 2023, with 48 players in the singles and 16 players in the doubles draw.

The ITF W100 Gran Canaria is not only a first class tennis event, it is also an opportunity to enjoy the beauty, gastronomy and culture of our island of Gran Canaria. The venue for the event is Maspalomas, the main tourist destination on the island of Gran Canaria, where visitors will be able to explore, among other things, its miles of golden sandy beaches, as well as the important Special Nature Reserve of the Maspalomas Dunes, a huge protected natural area of exceptional value.

We welcome and welcome with open arms all players and tennis fans who do not want to miss the opportunity to be part of this exciting sporting experience on the beautiful island of Gran Canaria.


Category
Categoría del evento
Sports
Age
Edad Recomendada
All audiences
Price
This event is for free