Volcanic relief, put yourself to the test. MTB routes and road itineraries, perfect for cycling training. Specialized sports centers and installations equipped with the most innovative technology. And all with the best climate in the world to accompany you as you prepare your pre-season. For all these reasons, the Canary islands are carving out a niche for themselves as one of the best destinations for cycling training in Europe.
Imagen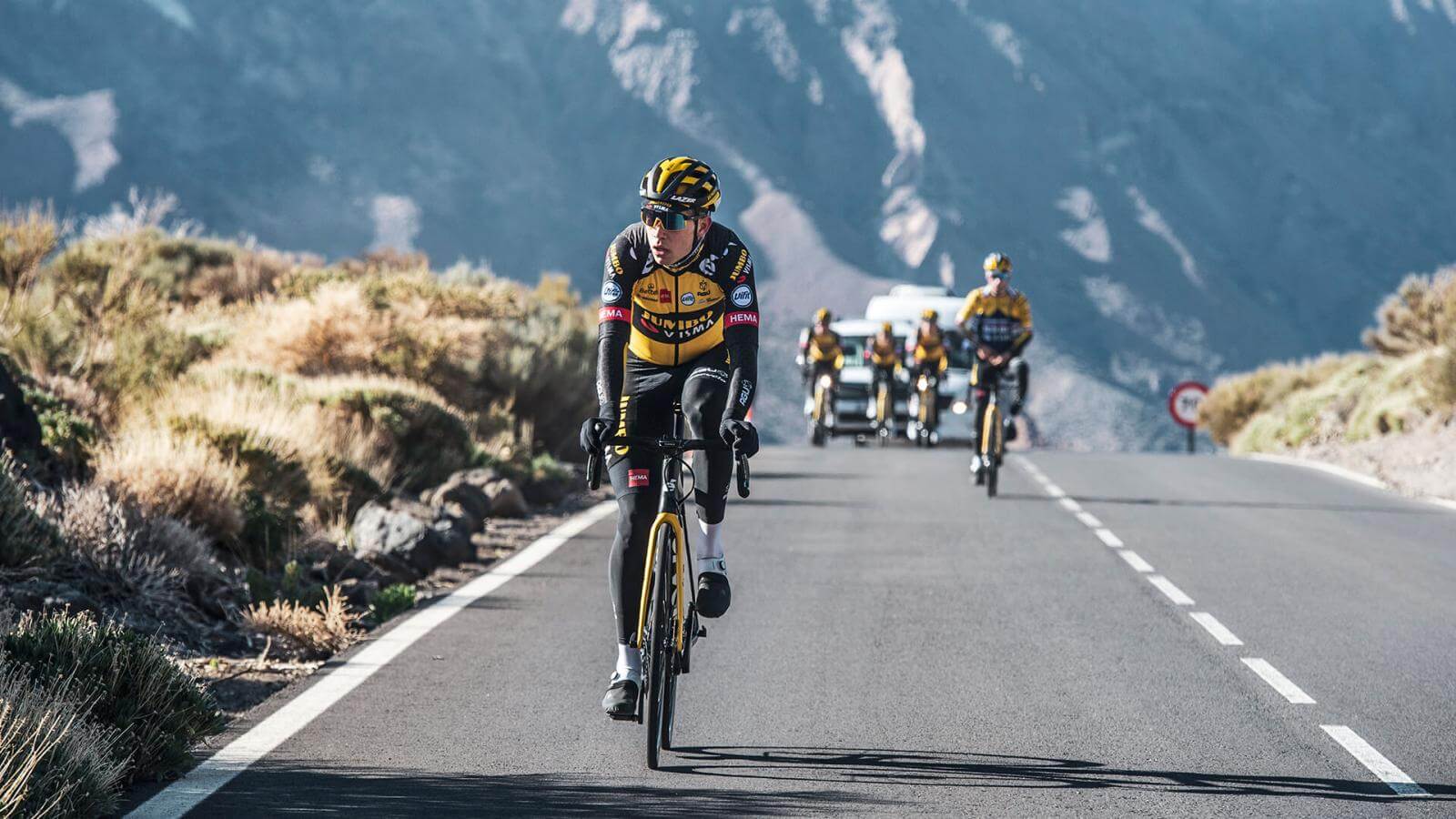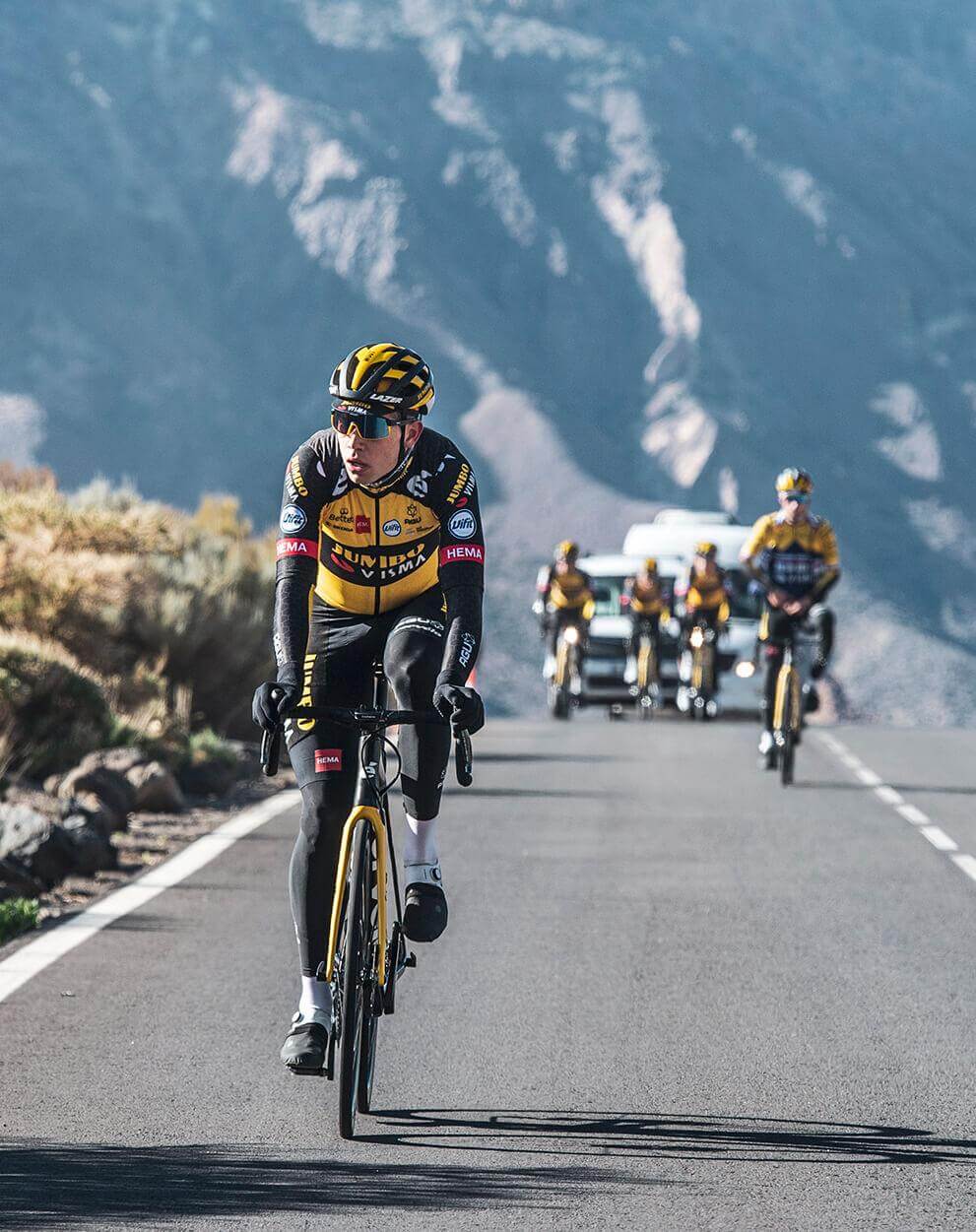 Contenido
Altitude training, with a good climate all year
The archipelago of the Canary Islands is one of the few places in the world where you can ascend from sea level to an altitude of over 2,000 metres in a short space of time, and which also has a stable climate all year long. In fact, not only does the region of the Canary Islands have exceptional volcanic relief, it also has an average annual temperature of 24 ºC, without significant oscillations. Which is why its countless routes provide optimal conditions for cycling training.
Contenido
One of the biggest attractions the archipelago offers is being able to pedal along at altitude at any time of year. The islands have numerous routes suitable for altitude cycling training to improve physical and pulmonary capacity by lowering the heart rate and blood pressure. Without a doubt, a unique opportunity to stimulate your cardiovascular system and enhance your competitive performance in the long term.
Contenido
Routes for professional cycling training
The Canary Islands have road and MTB routes to improve your performance and take it up to the highest level. To find out how to train for cycling on the archipelago in the most complete way, you should know about these highly-rated routes:
 
Route up to Pico de las Nieves, in Gran Canaria, considered the toughest mountain pass in Europe. It is 23 km long, 1,940 metres in altitude, with an elevation gain of 1,585 m and gradients of up to 23%.
Route from Santa Cruz de Tenerife to the Teide National Park. Over 63 kilometres of ascent to practise cycling on Tenerife, an elevation gain of over 2,300 metres and gradients of 12%. On the climb up to the Teide, the ascent is 35.3 kilometres in length, with an accumulated elevation gain of 2,150 metres and an average gradient of 6%, reaching an APM coefficient of 427.

Ascent trail to Roque de los Muchachos. A 127-kilometre trail that crosses the island of La Palma from north to south to reach its highest peak, located at an altitude of 2,400 metres. With gradients of up to 3850 metres in length and relaxed descents, this trail is perfect for endurance training.
Contenido
Installations and technology at the service of the best cyclists
The Canary Islands have specialized sports centers like Tenerife Top Training (Tenerife), Playitas Resort (Fuerteventura) or Club La Santa and Sands Beach (Lanzarote). All of them offer transport from the airport to the hotel and the centre. They also provide specialist materials and bicycle repair services and in addition, with the aim of boosting the recovery and rehabilitation process after cycling training, they have specialists in biomechanics and spaces for massages and ice baths.
Contenido
The Hotel Marina Suites on Gran Canaria has Spain's very first virtual cycling room. It is equipped with Wahoo Kickr Bikes, considered the best on the simulation market, connected to virtual professional platforms for cycling training. Equipment with a unique response capacity and power accuracy range of +/-1% and precision in gradient changing (uphill gradients of up to 20% and downhill gradients of -15%).
Contenido
Volcanic slopes that offer a real challenge
The diversity of the Canary Islands' terrain is another reason why this is a top destination for cycling training. Indeed, Chris Froome himself said that when training on Tenerife, he faced "the steepest climb in the world", in reference to the Camino de Las Lajitas climb (Santa Úrsula, Tenerife), with a gradient of over 30%.
Alberto Contador also confesses that the climb up to the Chirche viewpoint (Guía de Isora, Tenerife) is one of his favourite places for testing himself before the big world cycling tours.
Meanwhile, anyone who has come up against the route of Pico de las Nieves (Gran Canaria) describes completing it like reaching "the ceiling of Gran Canaria", because of its climbs with gradients of up to 23%.
As a result, cycling training on the Canary Islands is not only a spectacle of unforgettable landscapes, but also a challenge to test your stamina with challenging, internationally-renowned routes. Feel like preparing your pre-season in these unique surroundings?