Miles of sand, specialised facilities and a perfect climate for playing all year round. The Canary Islands are among the top spots for professional beach volleyball training in Spain. And for playing too, because these islands are also home to official, national tournaments. The perfect combination for beach volleyball aficionados.
Contenido
Play on sand all 365 days of the year
The Canary Islands have more than 1,500 kilometres of coastline. So, when it comes to beach volleyball, the climate is almost as important as the court. That's why the sport has such a short season in many countries, forcing players to train indoors in artificial conditions.
 
With almost 5,000 hours of sunshine and stable, year-round temperatures of around 24C the Canary Islands are the destination of choice for numerous beach volleyball players and teams. Not only can you plan longer, more comprehensive pre-seasons, but you can switch between real sand volleyball courts on the beach and the gym in the blink of an eye.
Imagen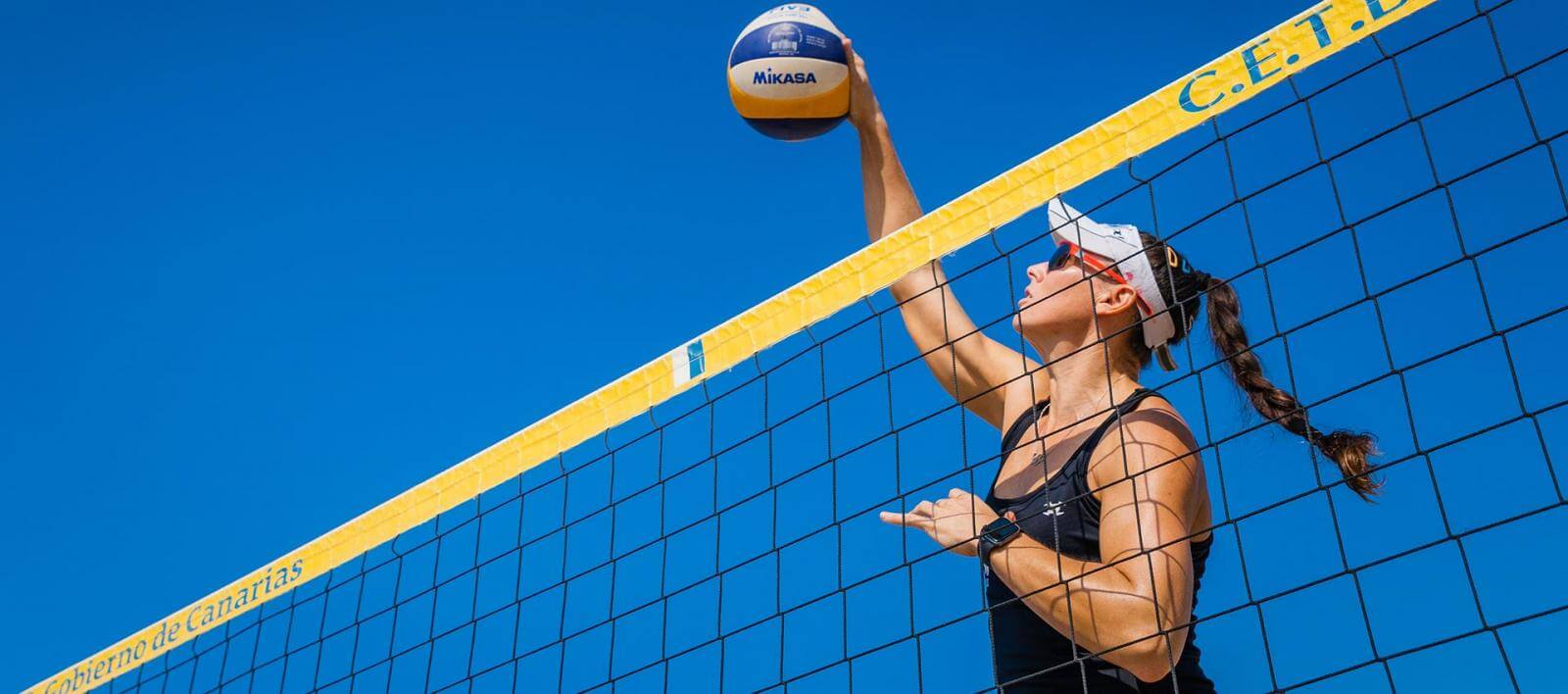 Contenido
A network of facilities for beach volleyball players
Sand, courts, gym, recovery... the Canary Islands have specialised facilities for playing volleyball. One of these is the renowned Beach Volleyball High-Performance Centre, (in Spanish: Centro Especializado de Tecnificación Deportiva de Vóley Playa (CETD)). This facility, which has been recognised by the Higher Sports Council for more than 30 years, prepares national and international athletes, such as the Olympic combo Liliana Fernández and Elsa Baquerizo, Canarian duo Adrián Gavira and Pablo Herrara and the 2019 Norwegian bronze winners Anders Mol and Christian Sorum.
In addition to the eight volleyball courts and facilities divided between Tenerife and Gran Canaria that the CETD offers, other centers such as the Playitas Resort in Fuerteventura or the Tenerife Top Training (T3) provide an excellent framework for professional training in this sport.
Contenido
The perfect surface to hone your skills
There's nothing quite like training on sand to perfect your beach volleyball technique. Professionals and teams in this sport know the value of training on sand in the run-up to the season. Extending the season by training on the beach not only keeps players in better shape and protects from future injuries, but improves key factors for competitiveness such as stability, strength and balance.
 
Another advantage of professional beach volleyball training on sand is proprioception work. The smooth yet uneven surface of the sand improves joint intelligence, making players safer on all kinds of surfaces. 
Contenido
A highly competitive destination
The Canary Island are part of the competitive official beach volleyball circuit in Spain. In fact Gran Canaria and Tenerife host important events like the Spanish championship and the Winter Beach Volleyball Circuit. One example is the Challenge Beach Volley Cup, a national qualifying event with the dual multiplier factor that it was held on Las Alcaravaneras beach in Las Palmas de Gran Canaria in 2021. 
  
There is also a lot to attract young talent. The islands have a history of hosting numerous junior beach volleyball competitions. For example, Playa de Arona has been the backdrop for major tournaments such as the Spain U19 volleyball regional teams championship. 

Imagen