Imagen Listado
Imagen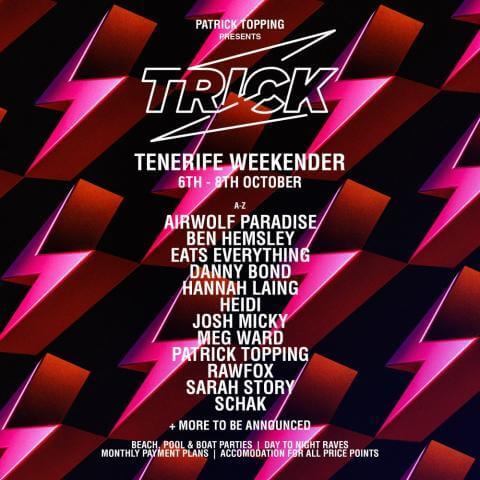 Descripción del evento
Patrick Topping presents… TRICK

Trick is characterised by bespoke productions and exciting line-ups featuring artists at the forefront of the house and techno world. Initially launched as a record label to exhibit Topping's versatility as a producer, it has gone on to showcase new emerging talent and since developed into a burgeoning lifestyle brand.

Whilst partnering with premiere promoters in key cities, such as Terminal V in Edinburgh, The Warehouse Project in Manchester and Thick As Thieves in Melbourne, as well as booking some of the biggest and most cutting-edge names in the scene, from Floorplan to Green Velvet, Luciano to Fjaak, Trick continues to push its own up & coming artists, the likes of Elliot Adamson, Ewan Mcvicar & Ammara. As the label closes in on its 30threlease, it has already established a unique and taste-making back catalogue and continues to carve its own path.
Category
Categoría del evento
Festival
Age
Edad Recomendada
Adults only
Price
Please, check the event/tickets web