Imagen Listado
Imagen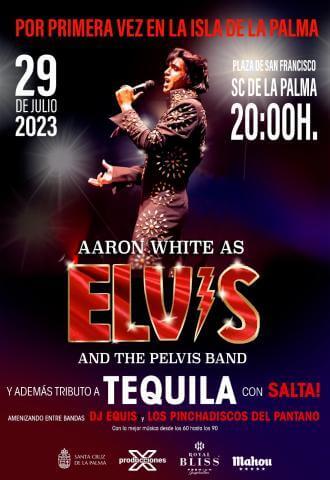 Past event
Descripción del evento
"The Santa Cruz de La Palma City Council, through the Department of Fiestas directed by Raico Arrocha, will celebrate one of the best musical performances of the summer on 29 July in the Plaza de San Francisco, in the capital of La Palma.
Generations of La Palma guys and gals will be able to dance to the rhythm of Elvis Presley with the tribute concert to indisputably the most-famous figure in the history of rock and roll. For the first time on the island, Aaron White and The Pelvis Band will perform some of his greatest rock, blues and ballad songs in the purest rockabilly style.
Mayor Raico Arrocha invites the entire population of La Palma to enjoy this event that ""knows no age"" and that will surely ""mobilise hundreds of fans of these artists who are part of so many personal experiences.""
A show for unconditional fans that just won't stop with choirs and hip shaking. Next up there will be a tribute to the Spanish/Argentine band Tequila with ¡Salta!, whose successes have become a fundamental part of musical culture since it was formed and that revolutionised the youth rock scene in Spain between 1976 and 1983.
A night on which there will be no time to rest with the setting offered in the Plaza de San Francisco with DJ Equis and Los Pinchadiscos del Pantano on the stage with tunes from the 80s and 90s.
"
Category
Categoría del evento
Spectacle
Age
Edad Recomendada
All audiences
Price
Please, check the event/tickets web