Imagen Listado
Imagen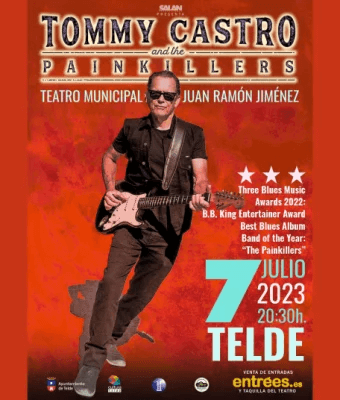 Descripción del evento
TOMMY CASTRO & THE PAINKILLERS. Esta máquina del Blues, R&B y R&E ha sido premieado como mejor artista del año, mejor artista RockBlues, mejor Album de Blues, por «A BluesMan Came to Town«, mejor cantante masculino de soul, canción del año y banda del año.

Un poco de historia sobre Tommy Castro

El número de artistas y bandas individuales que han mantenido una carrera próspera durante 30 años es extremadamente pequeño y una práctica persistente. "Hemos durado más que todos nuestros matrimonios combinados, y todavía estamos rockeando en algún lugar casi todas las noches", bromean Castro y McDonald, ya que siguen siendo el núcleo constante del grupo durante 30 años. La asombrosa cantidad de espectáculos realizados juntos supera con creces los 6000, incluidas 3 temporadas como banda de la casa para las producciones de HBO «Comedy Showcase», dos giras de verano con BB King y Buddy Guy, 40 cruceros musicales (incluidos 33 Legendary Rhythm and Blues Cruises consecutivos con entradas agotadas). Y muchos de los festivales de música más importantes del mundo. Las colaboraciones de la banda han incluido; John Lee Hooker, Carlos Santana, Bob Weir, Greg Alman, Dr. John, Willie Nelson, Jeff Beck, Joe Bonamassa, Elvin Bishop, Charlie Musselwhite, Magic Dick of J Giles, Taj Mahal y Los Lobos.
Category
Categoría del evento
Music
Age
Edad Recomendada
All audiences
Price
Please, check the event/tickets web