Imagen Listado
Imagen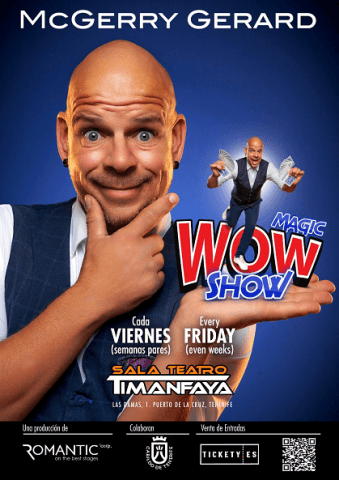 Descripción del evento
The Magic WOW Show by: McGerry Gerard. The Impossible Becomes Reality, in the Sala Timanfaya Theatre.
The key to this incredible performer's success is a NEW STYLE of magic that is at the same time modern as well as elegant. Each one of his magic shows has its own unique style that allows him to create a different kind of magic that is full of new sensations.
With his charming personality and humour, McGerry Gerard knows how to seduce those before him shortly after appearing.
More than 5,000 shows performed in different countries and more than 200 satisfied customers are testimony to his 18-year career in the world of magic, where his customers highlight his innovation, creativity, charm and spectacular showmanship.
McGerry Gerard's training in magic and his extensive repertoire make him a versatile artist with a wide range of possibilities to entertain different audiences of children and adults alike.

Category
Categoría del evento
Cinema and theater
Age
Edad Recomendada
All audiences
Price
Please, check the event/tickets web