Imagen Listado
Imagen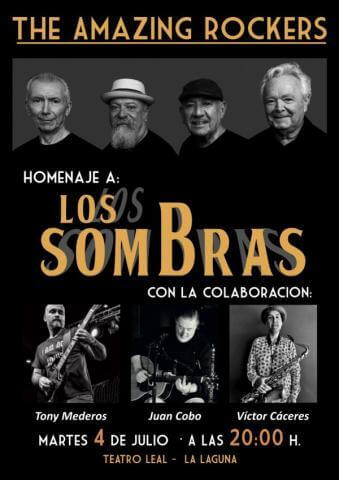 Past event
Descripción del evento
THE AMAZING ROCKERS are formed by Tenerife musicians Pepe Rancel, Fernando Foronda, Paco Urbano, Manolo Santana, Juan Cobo, Tony Mederos and Víctor Cáceres, who will pay tribute, in concert, to the famous Tenerife group Los Sombras who, between 1965 to 1970, played an essential role in the Canary Islands, as a faithful reflection and consequence of the youthful transformation promoted and inspired by the unstoppable strength of music recreated by rock, soul and rhythm and blues bands of Great Britain, Ireland and the United States during the 1960s.

The honoured band – Los Sombras – was very-well received by the Canary Islands youth of the time and, due to the freshness and innovation of their unique style, still retains the happy memory of their performances at Club A Go Go in La Laguna, the Real Casino de Tenerife, the Real Club Náutico, Sloopy's in Santa Cruz, Estadio Insular in Gran Canaria, Atlantic Festival in Puerto de La Cruz and other towns on the islands, memories that are still alive in the minds of the generations of its time.

THE AMAZING ROCKERS will recover the good musical work of Los Sombras with this concert/tribute, reinterpreting songs by composers, groups and singers from the 1950s and 1960s such as Fats Domino, Mick Jagger and Keith Richards, Eddie Cochran, Sam Cooke, The Animals, Wilson Pickett, Little Richard, Brenton Wood, The Beatles, Buddy Holly, Elvis, Ben E. King, Chuck Berry and Delbert McClinton.

Those attending this tribute will enjoy the concert almost as much as if Sombras themselves came back from their well-deserved rest in the Rock Paradise for this "happening".

Category
Categoría del evento
Music
Age
Edad Recomendada
All audiences
Price
Please, check the event/tickets web