Imagen Listado
Imagen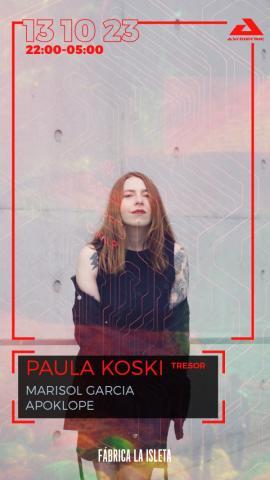 Past event
Descripción del evento
"""Our new series of events called ASYMETRIC, has been created to bring a new clubbing experience to the city. It was also created to promote and give more visibility to the female figure in the Electronic music industry, actively participating in the growing Techno scene on the island (connecting the different capitals of Europe with Las Palmas) and supporting the most prominent local talent.

The first edition will be led by female artists, headed by Paula Koski: Resident of one of the most iconic clubs on a historical and cultural level, and a leading club for Berlin's RAVE Culture: TRESOR.
Warm Up 22.00 - 01.30 Marisol García (@marisol_garcia_canaryislands)
Main Time 01.30 - 03.30 Paula Koski (@paula.koski)
Closing Set 03.30 - 05.00 Apoklope (@apoklope)
ACCESS ONLY FROM 10:00 PM TO 1:30 AM (after this time, your ticket will no longer be valid).
No cameras
Hall + terrace (Smoking area)
Limited capacity""
"
Category
Categoría del evento
Music
Age
Edad Recomendada
Adults only
Price
Please, check the event/tickets web