Imagen Listado
Imagen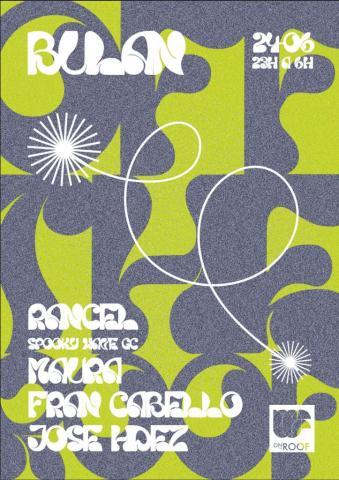 Descripción del evento
We got off the roof for our third edition of OFFtheRoof
On Saturday 24 June in our so-called second home: Bulán Social Club from 23:00 to 06:00.
The line up
RANCEL GC Spooky Wave Label
A DJ and producer based in Berlin, his music is a fusion of his two great passions: waves and electronics. Rancel transports his listeners to different experiences at sea, something unique that he achieves by fusing genres and adding that seductive after taste of the 1990s.
MAURA IT Psychostasia/Release Sustain
Maura has had a captivating presence on the London music circuit for years. With productions on Psychostasia Recordings, Release Sustain, Vitalik, Sneaky Music, and Deependence, he continues to work hard in the studio on solo and collaborative projects. Standing out for their dynamic sets regardless of musical trends, showing a selection that could not be pigeonholed in a specific era and carefully researched with an old school vibe and a perspective of the future.
FRAN CABELLO
After several years developing as a DJ and touring the tables of the most iconic clubs and festivals on the Canary Islands, Fran Cabello has infiltrated the upper echelons of the electronic and artistic atmosphere of the Islands thanks, among other things, to an ability to adapt that has made his musical repertoire legendary. His committed research through different styles translates into know-how and communication that, while maintaining professionalism, turns his sessions into a sound story.
JOSÉ HDEZ
Resident DJ at Bulán Social Club.

Category
Categoría del evento
Festival
Age
Edad Recomendada
Adults only
Price
Please, check the event/tickets web