Imagen Listado
Imagen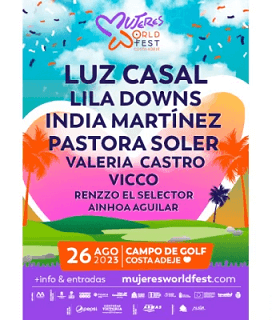 Descripción del evento
"Mujeres World Fest presents a second edition with many novelties and a luxury poster with Luz Casal, Lila Downs, India Martínez, Pastora Soler, Vicco, Valeria Castro, Ainhoa Aguilar and Renzzo el Selector.  The festival consolidates a different and unique project in Spain with a commitment to female visibility from different artistic expressions and with very relevant figures that bring added value to the proposal.Live the experience Women World Fest, next 26th of August at the Golf Course Costa Adeje.

From 3:00 and until the body holds..

Women World Fest, the festival you were looking for! Make it a reality, a new concept for a new world.

More information at www.mujeresworldfest.com and @mujeresworldfest "
Category
Categoría del evento
Festival
Age
Edad Recomendada
All audiences
Price
Please, check the event/tickets web