Imagen Listado
Imagen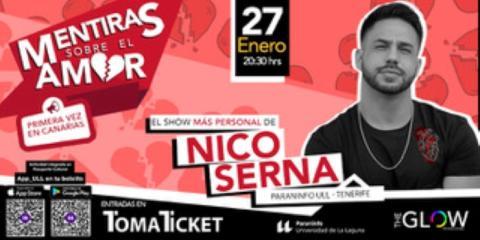 Descripción del evento
"From the moment we are born, endless ideas, thoughts and concepts related to love are imposed upon us. We learn things and we take things for granted. Many of them are already completely obsolete and others cause great suffering.
Throughout our lives, there are disappointments, tragedies and harsh realities. From these, we discovered that many issues were nothing more than just lies and other things disguised as LOVE.
This performance will take place for the first time in the Canary Islands and Spain, after a successful tour on stages in various Latin American countries, led by influencer Nico Serna, who has more than one million followers. A unique event in which anecdotes, laughter, emotions and reflection come together for an unforgettable encounter.
"
Category
Categoría del evento
Spectacle
Age
Edad Recomendada
Adults only
Price
Please, check the event/tickets web