Imagen Listado
Imagen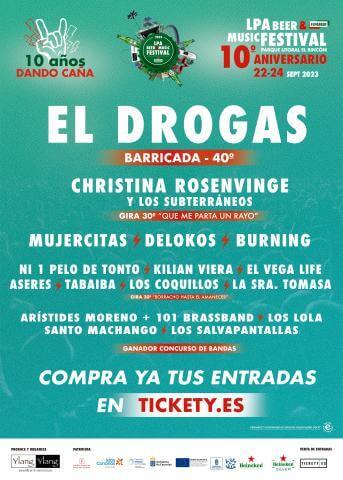 Past event
Descripción del evento
LPA Beer & Music Festival will be 10 years old in 2023 and this edition will be a celebration in style.
This year our stages will host El Drogas (40th Barricada Tour), Christina Rosenvinge, Burning, Mujercitas, DeloKos, Ni 1 Pelo de tonto, Kilian Viera, El Vega Life, Aseres, Tabaiba, La Sra Tomasa, Santo Manchango, Arístides Moreno + 101 Brass band, Los Lola, Los Coquillos, Los Salvapantallas, Winner of the band competition.
The venue, like last year, will be located in the Parque Litoral El Rincón, an incomparable setting in the heart of the city, with easy access and transport.

Category
Categoría del evento
Music
Age
Edad Recomendada
All audiences
Price
Please, check the event/tickets web