Imagen Listado
Imagen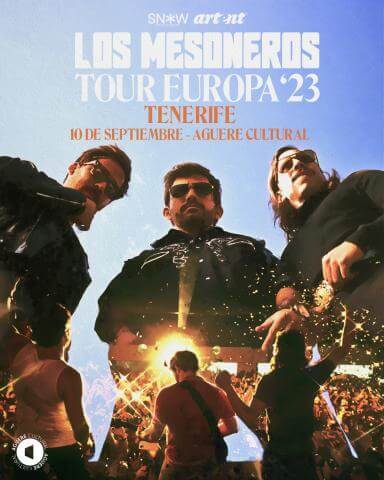 Descripción del evento
Los Mesoneros is a Pop band, formed in Venezuela, but currently based in Mexico. At a young age and with few songs on the street, they managed to get into high rotation on the main radio stations in their country, forming part of the vibrant Pop Rock scene in Venezuela. Later, with their debut album ""Indelible"", they achieved four Latin Grammy nominations, breaking the record for the Venezuelan band with the most nominations in a single edition.
In their second album ""Caiga La Noche"" they consolidated as an international band, settling in Mexico and achieving a ""sold-out"" tour through Latin America, Europe and the United States.
After several years of touring, they entered the studio once again and released ""Pangea"", an album that changed the life of Los Mesoneros forever due to their hit singles ""Te Lo Advertí"", ""Pangea"" and ""Últimas Palabras"" and for once again achieving two Latin Grammy nominations.
They recently released two live albums ""Live Desde Pangea"" and ""10 Años de Indeleble"", with yet another Latin Grammy nomination with the first, making a total of seven nominations over their entire career and breaking the record for the highest attendance of a streaming concert by a band from Venezuela with ""10 years of Indeleble"".
In 2022 and so far in 2023, Los Mesoneros shared several previews of what will be their new album to be released this 2023 through the songs ""DOS"", ""No Terminamos De Terminar"" ft. Big Soto, ""Despidete Bien"", ""Más Tuyo"" and his most recent single ""El Puesto Es Mío"".
Important:
This event is only for people over 18 years of age.
Minors up to 16 years of age may attend accompanied by an adult.

Category
Categoría del evento
Music
Age
Edad Recomendada
All audiences
Price
Please, check the event/tickets web