Imagen Listado
Imagen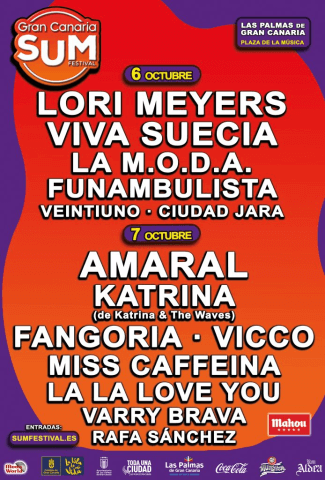 Past event
Descripción del evento
"Gran Canaria SUM Festival repeats in 2023. The fourth edition will take place on Friday the 6th and Saturday the 7th of October, bringing the best musical proposals on the national scene to the city of Las Palmas.

Lori Meyers, Viva Suecia, Miss Caffeina, Fangoria, La MODA, La La Love You, Katrina, Veintiuno, Rafa Sánchez, Ciudad Jara, Varry Brava, Vicco and Funambulista, with their unstoppable track records and highly entertaining live shows, are the first to confirm their participation.

Multiple-day and one-day tickets are now on sale.
"
Category
Categoría del evento
Music
Age
Edad Recomendada
All audiences
Price
Please, check the event/tickets web