Imagen Listado
Imagen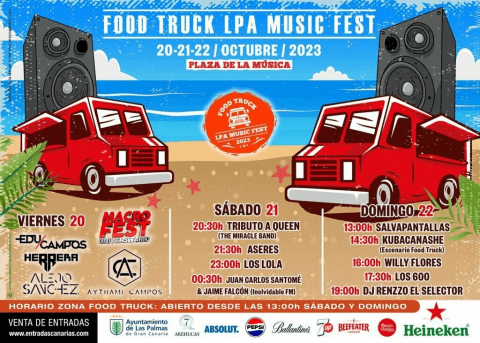 Past event
Descripción del evento
"The FOOD TRUCK LPA MUSIC FEST arrives in Gran Canaria! THREE DAYS OF GREAT CELEBRATIS IN THE BAY OF OUR CAPITAL
FRIDAY: UNIVERSITY MACRO FEST!
SATURDAY:
- QUEEN TRIBUTE
- ASERES
- LOS LOLA
- JUAN CARLOS SANTOMÉ AND JAIME FALCÓN

SUNDAY:
- SALVAPANTALLAS
- KUBACANASHE
- WILLY FLORES
- LOS 600
- DJ RENZZO EL SELECTOR
PURE FUN FOR THE WHOLE FAMILY!
HAVE A SCANDAL OF A WEEKEND!
"
Category
Categoría del evento
Gastronomy
Age
Edad Recomendada
All audiences
Price
Please, check the event/tickets web