Imagen Listado
Imagen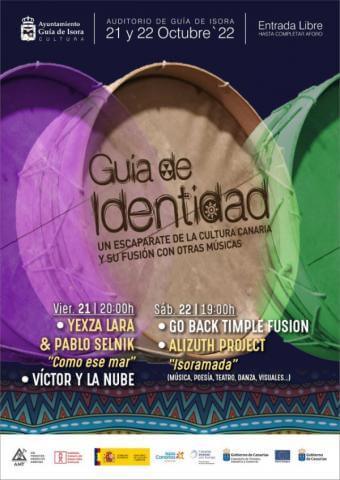 Descripción del evento
The municipality of Guía de Isora hosts a new edition of this free festival in which the signs of identity are mixed with other sounds and cultures through multimedia language.

On Friday, the 21st, the recital "Como ese mar", by Yexza Lara and Pablo Selnik, opens the festival to give way to Víctor y la Nube en cuarteto, a fresh proposal that fuses rumba, reggae and funky Go Back Timple Fusiónpasses our small instrument through surprising hits and international styles, before Alizuth Project presents "Isoramada", a combination of music, dance, theatre and poetry, on Saturday (15th).

The second day of the festival will be brought forward by one hour on Saturday 22nd. At 19:00 Go Back Timple Fusion, an instrumental quartet led by Eduardo del Rosario, a musician from the north of Tenerife who adds the sound of the timple to versions so unusual for him, recreating songs by Pink Floyd, Dire Straits and Michael Jackson, among others, accompanied by keyboards, bass and electronic drums.
Category
Categoría del evento
Festival
Age
Edad Recomendada
All audiences
Price
This event is for free