Imagen Listado
Imagen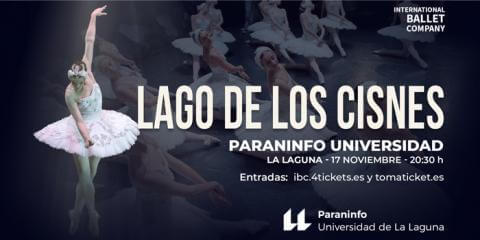 Past event
Descripción del evento
"The International Ballet Company presents Swan Lake, one of the best-known classical ballets in the world, in the La Laguna University Auditorium. Its first performance dates back to 4 March 1877, at the Bolshoi Theatre in Moscow.

Almost twenty years later, on 15 January 1895, it was performed once again at the Mariinsky Theatre in Saint Petersburg. It was so successful that today's choreographers still perform this classic ballet under the name Swan Lake – Ballet from Saint Petersburg.
The music for Swan Lake was composed by Pyotr Ilyich Tchaikovsky, musical author of other ballets such as The Nutcracker, Sleeping Beauty, Romeo and Juliet and Overture 1812.
The main plot of the ballet revolves around Siegfried, a prince in love with Princess Odette, over whom the evil sorcerer Von Rothbart cast a spell to turn her into a swan during the day and human at night. The curse can only be broken if the princess finds true love. Siegfried however, who must choose a wife at the next ball, also falls victim to the magician's deceptions. So much so that he manages to confuse him to the point of making a promise to his daughter Odile, the Black Swan.""
The thirteenth edition of the Lagunero university event dedicated to ballet includes a wide variety of conferences, workshops and seminars aimed at the general public and will take place in San Cristóbal de La Laguna and online from 30 November to 8 December 2023.
"
Category
Categoría del evento
Dance
Age
Edad Recomendada
All audiences
Price
Please, check the event/tickets web