Imagen Listado
Imagen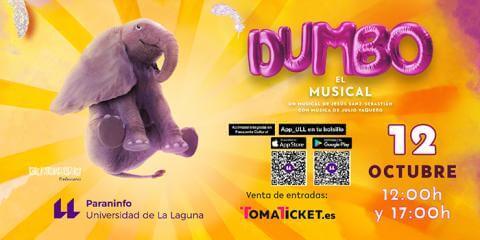 Past event
Descripción del evento
"Dumbo, a little elephant with big ears, has just arrived at the magnificent ""Circus of Time'' where he becomes a laughing stock because of his difference. But Dumbo doesn't cave in, thanks to his friend Peanut the mouse, he discovers that what he thought was his greatest flaw is, in reality, a wonderful gift: Dumbo can fly using his ears as wings.

He thus embarks on a great adventure in search of his mother who has been caged and sold to another circus for trying to defend him. A journey full of musical numbers, where children and adults learn the value of friendship, self-confidence and the daily decision to be kind to everyone who crosses our path.

A fun show for the whole family with great staging and live voices that address topics such as inclusion as well as as the harassment suffered by those who are different and their own internal struggles to be accepted. A musical with soul that shows that all individuals have something to say, despite the size of their ears.
"
Category
Categoría del evento
Spectacle
Age
Edad Recomendada
All audiences
Price
Please, check the event/tickets web