Imagen Listado
Imagen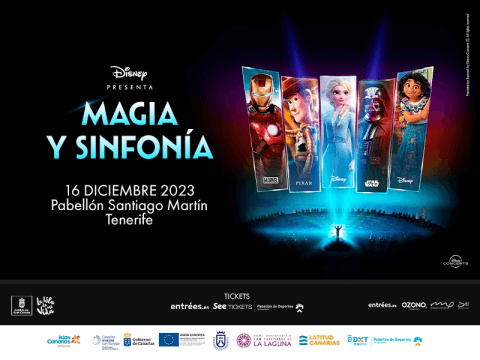 Descripción del evento
"Get ready for a symphonic experience like no other with ""DISNEY, Magic and Symphony"". This live event is a musical journey through Disney's most iconic content, and marks a historic milestone by bringing together the best of Disney, Pixar, Marvel and Star Wars in one concert and an unforgettable symphony.

Immerse yourself for over an hour in the magic of your favourite brands' music with artists performing the tunes live. But that's not all - a huge screen will take you off to a dream world with visual projections that complement the musical experience, transporting you to the magical worlds you have loved your whole life.

""DISNEY, Magic and Symphony"" is much more than a concert. It is an event that will immerse you in excitement, adventure and nostalgia - all in one place. Don't miss this unique opportunity to experience the magic of Disney like never before.
"
Category
Categoría del evento
Music
Age
Edad Recomendada
All audiences
Price
Please, check the event/tickets web