Imagen Listado
Imagen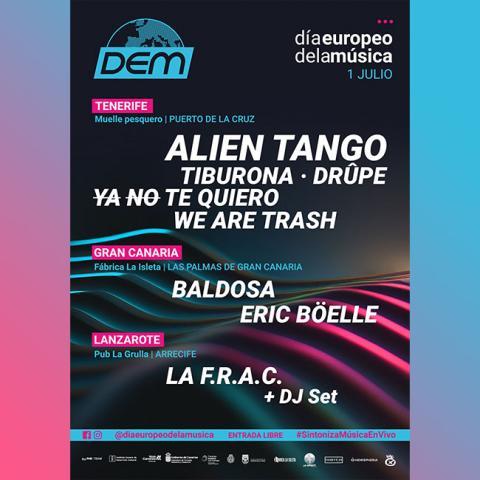 Descripción del evento
"The European Day of Music on the Canary Islands celebrates its 11th anniversary on 1 July, becoming the most ambitious event of its entire history and live music celebrations as it is held in three venues (Puerto de la Cruz, Las Palmas de Gran Canaria and Arrecife) simultaneously. As usual in recent editions, the event will also serve as a preview and presentation party for the 2023 edition of Phe Festival. The London band Alien Tango and the Madrid band Tiburona, together with an outstanding selection of emerging bands from the Canary Islands, such as Baldosa and Eric Böelle among others, will be the stars of this event with free admission in all locations.

The European Day of Music on the Canary Islands aims to promote and strengthen the cultural offer in the cities in which it is held, jointly participating in the European circuit that is organised for this reason every year, in addition to making the Canary Islands' participation visible, showing the latest trends and artistic and creative talent by local, Spanish and international musicians, who are given the opportunity to participate and thus make their projects visible.

ARRECIFE - PUB LA GRULLA

The event begins its journey in this edition also on the island of Lanzarote with the performance by Cádiz group La FRAC (Fundación de Raperos Atípicos de Cádiz [Cadiz Atypical Rapper Foundation]) with a project in an original-style rap format and influenced mainly by Jamaican music that connects with the public in the purest style of carnival ballads.

Admission to DEM 2023 is free and its aim is to bring live music to all citizens equally.

DEM 2023 is an initiative organised by Phe Team and is sponsored by institutions such as the Canary Islands Institute for Cultural Development and Canary Islands Tourism through its corresponding cultural tenders, and with the collaboration of the Puerto de la Cruz City Council, La Fábrica La Isleta, Pub La Grulla, The Collective and Hemispheria. All of the updated information about the festival can be found on the festival's social networks: Instagram and Facebook.
"
Category
Categoría del evento
Music
Age
Edad Recomendada
Adults only
Price
This event is for free