Imagen Listado
Imagen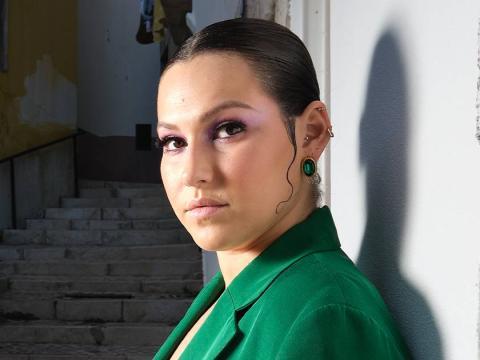 Past event
Descripción del evento
"Music was born with me, no one in my family sings. Fado was not the kind of music that was heard at home! I have been singing ever since I can remember, but when I was seven years old I saw a show by Amália Rodrigues on RTP and heard Fado for the first time. My parents tell me that I stood in the middle of the room trying to sing what I was hearing. At first they didn't understand my taste and my desire to sing Fado, but I quickly told them that I wanted to be a Fado singer."

In the Fado houses, which she began to attend a year later, she received teaching from her elders and chose her great references: Amália Rodrigues, Fernanda Maria, Teresa Tarouca, Lucília do Carmo, Ana Moura and Carminho. Thus she took her first steps in what was to become her own style.

Today, she sings in several well-renowned Fado houses: Mesa de Frades, Parreirinha de Alfama, Casa de Linhares – Bacalhau de Mollho, Fado Menor… She has appeared on television programs including "Uma Canção Para Ti" in 2011, "Grande Prix de Fado" and "The Voice Portugal" in 2015 and at the "Festival da Canção" in 2017. At 23 years old, Psychology and Fado are her great passions. Beatriz divides her time between studies, Fado houses and concerts.

She sings with the freshness of a young voice and, with one foot in tradition, creates a unique identity that is hers alone! She embodies the near future of great Fado as well as its traditional roots.

Category
Categoría del evento
Music
Age
Edad Recomendada
All audiences
Price
Please, check the event/tickets web