Imagen Listado
Imagen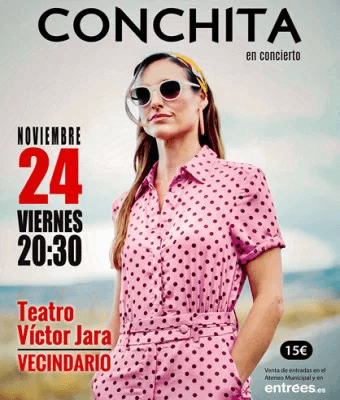 Past event
Descripción del evento
"Concert presentation of their latest album. Conchita is a Spanish composer, multi-instrumentalist and singer who spent much of her childhood in France, so her creations have often been influenced by the culture of this country.

If Conchita's music could be defined in a few words, it may be said that this singer/songwriter writes hymns about the little things in life that make it happier and more beautiful.

She now presents her new album "Labola de Nieve", with ten songs that arouse all kinds of emotions, songs that will make you dance, cry, think and rethink many things.

An explosion of sound and colours with songs like ""Cualquiera menos yo"" (Anybody but me), ""No soy yo, eres tú"" (It's not me, it's you) and ""Por las veces"" (For the times).
"
Category
Categoría del evento
Music
Age
Edad Recomendada
All audiences
Price
Please, check the event/tickets web