Imagen Listado
Imagen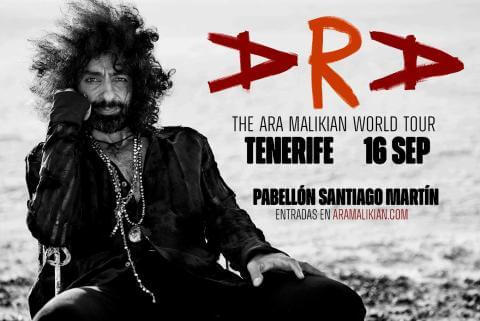 Past event
Descripción del evento
"""Concert at the Santiago Martín Pavilion on 16 September. THE ARA MALIKIAN WORLD TOUR
ARA MALIKIAN WILL PERFORM AT THE SANTIAGO MARTÍN PAVILION, TENERIFE, PRESENTING HIS FINAL TOUR.
When I saw my son walk for the first time after months of falls, failed attempts, knocks and bangs and trying again, I understood that one day we were all that force that time makes us forget.
Children are the most authentic beings you can find. They are wild, they are tenderness in their very essence and they are full of insulting truth. They are not afraid of being wrong, they are free and expressive and everything they do is full of art.
If you look at a child, you understand almost everything you were and that it's been a while since you allowed yourself to be just that.
This tour is the result of watching my son grow up, of growing up by his side, it is all those sounds and melodies that try to shape what I have felt and have been inspired by him and by life through him. It is an encounter with the child that I could not be and would have dreamed of being. It is a tribute to those beings who are as free as a free bird.
This tour is full of dinosaurs, robotic squids, time machines, flying pianos and bilingual mimes. This record is that which I had forgotten and which is so powerful: the Magic of finding each day and each path fascinating, whatever they bring.""
"
Category
Categoría del evento
Music
Age
Edad Recomendada
Adults only
Price
Please, check the event/tickets web