Imagen Listado
Imagen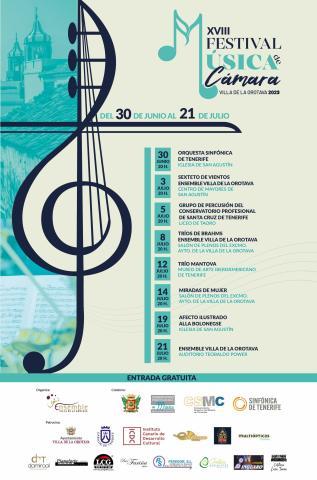 Descripción del evento
"The 18th Cámara Villa de La Orotava Music Festival opens its doors with an inaugural concert featuring the Orquesta Sinfónica de Tenerife along with the soloists: Carlos del Ser (oboe), Maximiliano Martín (clarinet), Antonio Lasheras (French horn), and Stefano Piergentili (bassoon). Together, they will perform the Sinfonia Concertante by W. A. Mozart, and the concert will close with L. van Beethoven's Symphony No. 8.

The concert will be conducted by concertmaster/conductor Maria Włoszczowska.

This concert inaugurates a new edition of the festival with many interesting events, where guest groups and the Villa de La Orotava Ensemble have composed an exquisite programme.
"

Category
Categoría del evento
Music
Age
Edad Recomendada
All audiences
Price
Please, check the event/tickets web